Olympics athletics: Andrew Osagie inspired by London crowd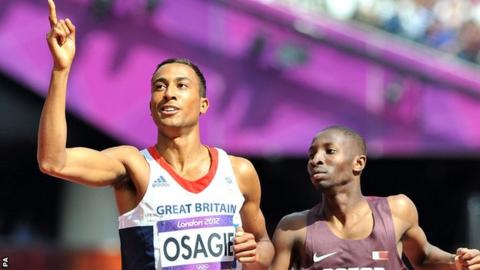 Essex's Andrew Osagie acknowledged the vital part being played by the crowd at the Olympic Stadium after qualifying for the 800 metres semi-finals.
Osagie, 24, went through by finishing third in his heat behind world record holder David Rudisha.
"This crowd has been unbelievable and we're trying to match them with our performances," he said.
"Take Mo (Farah) and Jess (Ennis) and Greg (Rutherford) the other day, we're all trying to step up as Team GB."
Osagie, from Harlow, won a bronze medal at the World Indoor Championships in Istanbul in March.
And although he did not secure automatic qualification from his Olympic heat until the last few strides, he insisted he was content with his performance.
"I was in a position where I was outside the qualifying until about the last three metres, which is not ideal but I didn't panic, I was very comfortable with where I was," he said.
"I am almost renowned for running rubbish in the heats, I really struggle with these mornings.
"But when it's night time - with an amazing crowd like this - I'm sure I'll be fine."
Osagie clocked 1:46.42 secs and later tweeted: "'Don't embarrass yourself on TV' was a success! Through to the Olympic Semi-Final."