Olympics athletics: Afghan sprinter Tahmina Kohistani targets Rio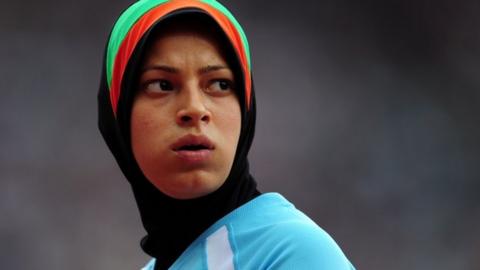 Afghan sprinter Tahmina Kohistani is already targeting a return at the 2016 Olympics despite setting the slowest time over 100m in London.
Kohistani, who often endures heckling during her training in Kabul, trailed home in 14.42 seconds but vowed to continue her running career.
"I would like to inspire other Afghan girls to join me so we can develop the sport in our country," she told the BBC.
The 23-year-old says she would like to prove women athletes can be part of Afghanistan's sporting future.
"We can join sports just like our brothers and also train with them," she said.
Kohistani has spoken about the fierce opposition from conservatives in her home city of Kabul adding that the attitude towards women who practice sports in her country can have a damaging psychological effect.
For now, the sprinter is still revelling in the experience of competing in the 80,000-seater Olympic stadium after showing few nerves for someone who does not even have access to normal training facilities.
"Before the race began I was confident and trusted myself," she said. "But when I went into the stadium it was a totally different thing, something I've never experienced before. This was my first Olympics and it was so grand.
"When the race started I began well but then I realised that the field was pulling away. But I'm still not disappointed. I tried my best and ran until the end, and as a result I set a new record for myself."
Kohistani, who was Afghanistan's only female representative in London, said she is sorry for her supporters, but that she had no hope of getting near a medal, given the lack of training facilities in her home country.
Despite all that, her experience in London seems to have only strengthened her determination.
"What I have done is worth more than a medal for me and my country," she said.