Irish sailing: Annalise Murphy misses out on Olympic medal
Last updated on .From the section Olympics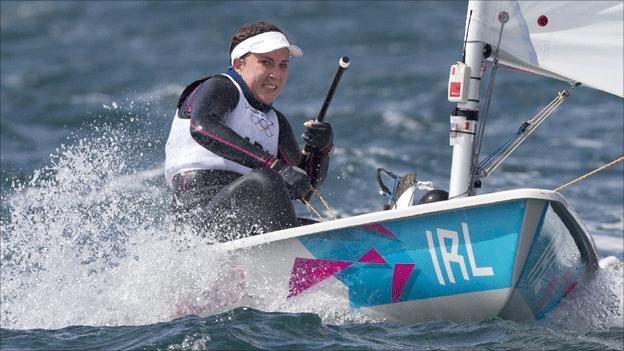 Irish sailor Annalise Murphy suffered heartbreak as she narrowly missed out on an Olympic medal in the Laser Radial class after finishing fourth.
The Dublin girl went into Monday's decisive double points medal race in third position, but took fifth place in that event to drop out of a medal spot.
Murphy, the youngest competitor in the field, had excelled by winning the first four of the 10 qualifying races.
She led after leg one of the medal race but struggled in the downwind sections.
The result was the best by an Irish sailing competitor since the 1980 Moscow Games.
Murphy, 22, was making her Olympic debut at Weymouth.
"I am pretty devastated as fourth is probably the worst place you can finish," said Murphy.
"I sailed pretty well but the other girls sailed well too and I'm happy for them, just disappointed for myself."
Chinese competitor Xu Lijia won the gold medal on 35 points, with 2011 world champion Marit Boouwmeester of the Netherlands taking the silver on 37.
Belgian Evi van Acker the bronze on 40, with Murphy ending on 44 points.