Judoka Nicholas Delpopolo tests positive for cannabis
Last updated on .From the section Olympics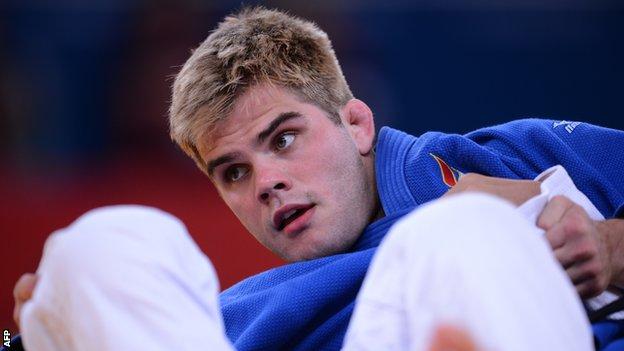 Judoka Nicholas Delpopolo has been expelled from London 2012 after he failed a drugs test and admitted he had unwittingly eaten marijuana-laced food.
Delpopolo was disqualified by the International Olympic Committee after they discovered metabolites of cannabis in a urine sample taken on 30 July.
He insisted he had not known the food contained the banned substance but that was not deemed a sufficient defence.
Delpopolo was tested after he lost to Mongolian Nyam-Ochir Sainjargal in the repechage stage at the ExCel Arena.
The IOC's ruling dictated that his name should be struck from the judo records in London and the International Judo Federation should consider issuing any further punishments available in their rulebook.
Delpopolo had waived his right to a hearing in the case and is due to return home to the United States on 7 August.
According to the IOC, the Serbian-born judoka "indicated that he was embarrassed by this mistake".
He has apologised to the United States Olympic Committee and his team-mates.
More than 1,000 blood and urine tests have been carried out at the state-of-the-art testing facility built especially for the Games in Essex.
The IOC confirmed there have been four exclusions and one temporary exclusion caused by failed drugs tests since the Olympic Village opened on 15 July.