Welsh boxer Fred Evans secures Olympic medal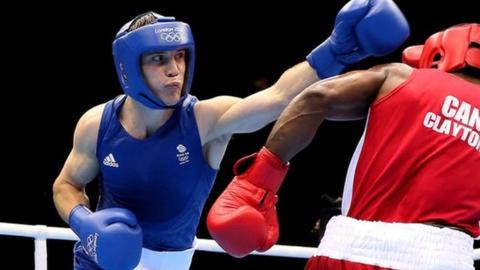 Welsh boxer Fred Evans secured at least a welterweight bronze medal after beating Canada's Custio Clayton.
Christian Malcolm is into the 200m semi-finals after finishing second on day 11 in his heat at the Olympic Stadium in 20.59 seconds.
Boxer Andrew Selby lost 16-11 in his flyweight contest against Robeisy Ramirez Carrazana of Cuba.
And at Weymouth, 470 class sailor Hannah Mills and her crew Saskia Clark dropped to second behind New Zealand.
Welterweight boxer Evans, who beat Lithuania's Egidijus Kavaliauskas 11-7 to reach the quarter-finals, won on countback against Clayton after the contest finished 14-14.
The Cardiff fighter's victory secured Wales' second ever Olympic boxing medal, after Ralph Evans won bronze in 1972.
"This is my dream come true," said Evans after his close contest against Clayton.
"This is unbelievable. I didn't box to the best of my ability but hopefully I can change the colour of that medal."
The Canadians lodged a protest against the result, although Custio had already told journalists that he had no complaints about the decision.
Sprinter Malcolm, 33, joined a group of sprinters facing the challenge of toppling Jamaica's 100m gold winner Usain Bolt in his defence of the 200m.
Bolt won the first heat and Malcolm followed him into the semi-finals with second place in heat three behind Maurice Mitchell of the United States of America after running a good bend in lane four.
However, Malcolm was not wholly satisfied with his efforts which left him ranked joint 18th out of 24 qualifiers with St Kitts and Nevis' Antoine Adams following the completion of the heats.
He said: "I'm a little bit disappointed with this morning because training has gone well in recent weeks.
"But I'm not getting any younger."
Even so Malcolm enjoyed the cheer he received from the crown as the athletes were introduced ahead of the race.
He said: "It's overwhelming. You can't even describe it. It was chilling, it was absolutely bone-chilling and it's something which I'll always remember."
As her event resumed following a day's rest, 470 skipper Mills hoped for another strong performance.
Mills and Clark finished on top after the opening day's two races and fell one place behind New Zealand after day two.
But on Sunday, the GB duo reclaimed top spot in the quest for places in Friday's medal race by finishing the the day's two races in first and sixth.
In race seven New Zealand finished first with Mills and Clark fifth. The Kiwis also won race eight, but the British duo clawed back some potentially crucial points in second while the Netherlands remain in the hunt for gold by finishing fourth and third in Tuesday's races.
They have two races left on Thursday before Friday's medal race at Weymouth.