Olympics basketball: Luol Deng says GB can learn from mistakes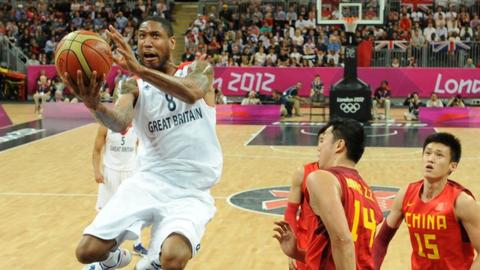 NBA star Luol Deng insists his Great Britain team will "learn from their mistakes" after recording their first win of the London Olympics, at the fifth time of asking, beating China 90-58.
Although Britain already knew they had not qualified for the quarter-finals, they played some of their best basketball of the tournament.
Deng told BBC Sport: "Sometimes you go through things for a reason. We're going to learn from our mistakes."
GB's Kieron Achara starred for the hosts, scoring 16 points.
Britain had to go through a lengthy process to prove to governing body Fiba that they were good enough to play at London 2012, but with just one win, questions may now be asked about their progress on the global stage.
"We would love to have advanced," Deng continued.
"There were a couple of sleepless nights but it's all worth it. In the future it will make all of us hungry for more, and better players.
"There were a lot of mistakes. We had turnovers and I made a lot of careless plays. Individually we all have to get better, but collectively we've got to do a better job," the Chicago Bulls player added.
Great Britain leap-frogged China with their win to finish fifth in Group B. Russia topped the table despite losing 82-80 to Australia, who also go through to the quarter-finals, while second-placed Brazil beat third-placed Spain 88-82.
Spain were forced to strongly deny accusations they had deliberately orchestrated a late collapse in order to avoid playing the United States in the knockout phase.
"We always play to win, always," insisted Toronto Raptors guard Jose Calderon.
The Americans topped Group A after demolishing an experienced Argentina side 126-97. France finished second after beating Nigeria 79-73 in a defeat that saw the Africans exit London 2012, while lowly Tunisia lost 76-63 to Lithuania.
Even with Deng, the first Briton to become an NBA All-Star, in their team and for all their hard work, Great Britain lacked experience.
Remarkably, Britain's tightest loss came against Spain, and it took a late basket from the world number two side to win 79-78.
BBC basketball summariser John Amaechi said: "My biggest worry is that people will look at this historic moment [London 2012] and think it's enough.
"Unless this will be a foundation for moving forward, this is just window dressing. The problems with British basketball are the unavailability of affordable facilities and the dire state of coaching.
"My problem has always been that we built a team for this Olympics and I think that's stupid and short-sighted.
"If you look at this team and add four years to every competitor, things don't look so rosy. I wanted to build a team for Brazil [for the 2016 Olympics] and beyond, because that's how you build a programme."
Against China, Britain showed no sign of missing one of their tournament top scorers, Pops Mensah-Bonsu, because of injury.
With 3:01 on the clock in the opening quarter, Achara hit a three-point basket to put the hosts in control at 18-12 up.
A stronger second quarter ended with a flurry of points for Britain, including an impressive three from Andrew Lawrence, which gave Britain a comfortable 46-31 lead at the break.
Looking relaxed and playing to their own rhythm, GB continued to pick holes in the Chinese defence and strode to a 72-48 lead by the end of the third quarter, before powering home to end their Olympic campaign 90-58 winners.