Injury hurt my gold bid, says a disappointed Dai Greene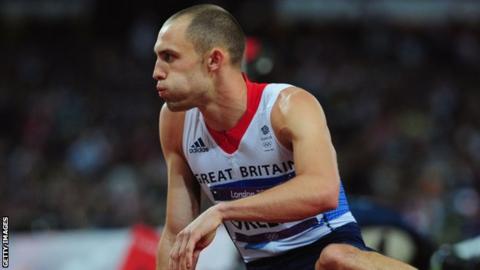 Dai Greene says injuries hampered his preparations after he missed out on an Olympic medal in the 400m hurdles final.
Greene finished fourth in a race won by Felix Sanchez with Michael Tinsley claiming silver and Javier Coulson securing bronze.
World champion Greene underwent knee surgery during the winter and conceded it disrupted his London preparations.
"It's been a difficult year for me with the injuries," he said.
"I meant to start training in October. I couldn't start until halfway through January.
"I didn't think too much of it at the time. Certainly when I ran a PB a few weeks ago I knew I was in great shape.
"But it is different running a few races. [I] usually come out the good side of things after a few rounds.
"It was certainly no pushover the time I ran, but it was not quite enough. The guys just had a few more tenths than me."
World champion Greene was never in the race and, although he finished strongly, was unable to make up the ground he lost in the first half of the race.
The Welshman was 0.14 seconds off a medal as Felix Sanchez from the Dominican Republic took gold in 47.63 seconds, eight years after winning the title in 2004.
"I certainly gave everything I had [but] not quite enough," Greene said.
"[I was] just lacking a bit of endurance at the end. You don't really know how fit you are until you come to this situation.
"I'm certainly fitter than half of the field, but not quite strong enough at the end and that's probably down to the few months I missed at the start of the year.
"It's little things like that can make a difference when you're a couple of tenths at this point of the season no doubt."
The Great Britain athletics captain had scraped into Monday's final after a disappointing semi-final performance.
Greene had been beaten into fourth in his semi-final, but made it through to the final after as one of two fastest losers.
"I think after Saturday it was such a shock to finish fourth in the semi-final [it] took quite a bit out of me. [It] took a bit of time to shake it off.
"I was very tired going into it and a bit flat at the start and really struggled to keep up with the intensity of the other guys.
"But I gave everything I had in the home straight, just disappointed it didn't quite result in a medal.
"I would have been happy with anything given the last few weeks.
"I can't fault my effort, but just disappointing not to deliver a medal for the crowd."