London 2012 hurdles: Perri Shakes-Drayton loses final place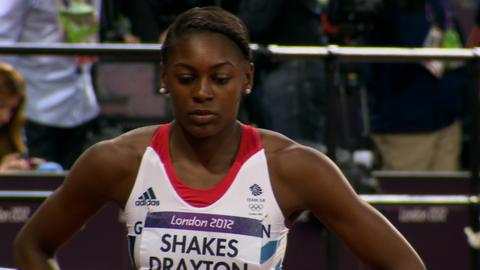 Great Britain's Perri Shakes-Drayton, 23, has lost the place she was handed in the 400m hurdles final when a Czech athlete was disqualified.
Shakes-Drayton at first failed to reach the final, coming third in her semi.
She was sent through when Denisa Rosolova was thrown out for running out of her lane but the Czech successfully appealed against the decision.
In better news for Britain, Margaret Adeoye and Abi Oyepitan both qualified for the women's 200m semi-finals.
Adeoye, 27, set a new personal best of 22.94 seconds in her heat, while 32-year-old Oyepitan finished second to American Carmelita Jeter in 22.92 secs in her heat.
Anyika Onuora, who failed to make it past the first round of the 100m earlier in the Games, also went in the first round in the 200m, and Eilidh Child followed Shakes-Drayton in failing to reach the 400m hurdles final.