Lennox Lewis column: British boxers impress at London 2012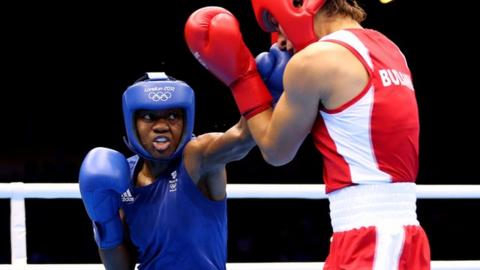 Wow, the girls were unbelievable at ExCeL on Monday. And what an atmosphere - the Irish were in the house in a big way!
Great Britain flyweight Nicola Adams was great in winning through to the semi-finals. She almost reminded me of Sugar Ray Leonard the way she was boxing. She's got great feet and is able to box at the same time - she even slipped an Ali shuffle in there - and that's what the sweet science is all about.
Ireland's Katie Taylor, who beat Britain's Natasha Jonas in her quarter-final, is a tremendous fighter. The way she throws punches and the aggression she throws them with, you can tell she's got the killer instinct. I think the guys should be watching their backs, she could beat a lot of them out there.
As for middleweight Savannah Marshall, who was upset in her first Olympic bout, it looked like she was a bit overawed by the occasion. When you're in this kind of environment you can either wake up or fall asleep, and unfortunately she did the latter. It was all a bit overwhelming for her, but she's only 21.
In the men's competition, I was impressed by our super-heavyweight hope Anthony Joshua against China's Zhilei Zhang. In his first fight against the Cuban Erislandy Savon he was tight and looked a little nervous but he blew the cobwebs away, was very controlled, very focused and did a great job.
What was particularly good is that you could tell Anthony was learning as he went along. He got hit with a couple of shots in the first two rounds but started moving his head and feet. He's a thinker and he's making the right decisions when he's in the ring.
The left hook was very important for him. When you box against a left-handed fighter, they're always watching out for your right hand, which is why that's the best punch for an orthodox boxer to throw at a southpaw.
And what about that knockdown in the second round? The Chinese guy was off-balance and if you get hit by another heavyweight you're going to go down, especially against Joshua, who hasn't got a weak right hand, he's got a great one.
On to Anthony's semi-final, and I think he matches up great because the Kazakhstan boxer, Ivan Dychko, might be 6ft 9in tall, but doesn't look that strong. He's got a nice stance but as far as throwing combinations goes, Anthony is miles ahead of him.
I was really impressed with Anthony Ogogo in his middleweight quarter-final. Like Joshua, he's improving as the tournament is progressing.
When he got tired he did some smart things in there: he threw his combinations and then smothered his opponent so the German couldn't get off with his punches. That way he was able to win the scoring contest.
I know Anthony's mum is ill and he's done very well to put all the negative things aside. He wants to win this thing and that's what it takes to be an Olympic champion.