Olympic rowing success delights Steve Williams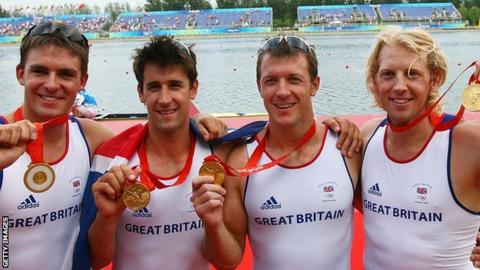 Retired double gold medallist Steve Williams has praised Great Britain's rowing team for doing the country proud at the London Olympics.
"It's our best Olympics ever. We're top of the (rowing) medals table - the guys and girls did their bit for Team GB," he told BBC Radio Suffolk.
"Everyone's talking about inspiring a generation and I think it will."
The 36-year-old was part of Team GB's winning coxless fours crew at the 2004 and 2008 Games in Athens and Beijing.
Now a fitness consultant with Championship football club Ipswich Town, Williams said there had been a change in the mind-set of British competitors across the whole range of sports in recent years.
"Maybe a generation ago, any Brit that came back with a medal was fantastic, but now they're not happy with just silvers and bronzes, they just want gold.
"When I was growing up, coming through school, there wasn't much in British sport that we could be rightly proud of.
"Yes, there were individuals but now we seem to have systematic success, systematic gold medals right across the board.
"We switch on the telly every day and we've got gold medal prospects in three or four different sports and I think that's great."
Team GB won four rowing golds, two silvers and three bronzes at Eton Dorney - with 40-year-old Greg Searle winning a bronze in the men's eight after spending more than a decade away from the sport.
Asked whether he would consider a comeback in 2016, Williams replied: "A little bit of me was thinking 'I wish I was down there' but I made my decision four years ago and I don't have any regrets about that.
"I've had a great four years, I've done some amazing things, so I have no regrets but good memories of the old days.
"There's a new generation now and they're doing us proud."
Williams said the Games had excited children all over the country and it was vital they should be able to experience a wide variety of sports.
"I think it's important to be able to give a diversity of opportunities to these kids, so if they're different shapes and sizes and they don't hit it off with this sport, then they've got an opportunity with another sport.
"Not every kid is going to be an Olympic gold medallist but if every kid can aspire and dream and aim to be the best they can be in whatever they choose to do, I think that's a gold medal in itself," he added.