Olympics hockey: Pakistan legend fears for the game in his country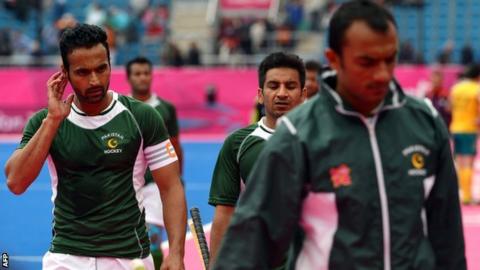 Former Pakistan captain Islahuddin Siddique is concerned for the future of the game in his country after the men's side crashed out of the Olympics.
Needing to win their last game to have a chance of reaching the semi-finals, Pakistan were routed 7-0 by Australia.
Pakistan finished bottom of their group at the 2010 World Cup and Siddique is worried about the national game.
"If you are losing, losing, losing, people don't want to come and play hockey," he told the BBC.
"It was really disappointing because Australia beat Pakistan by a tennis score. We used to win by five, six seven goals and now we are losing by the same score.
"Everyone wants to see the Pakistan flag high and for Pakistan to win the title. Everyone understands hockey it is our national game and with this result, I think everyone is annoyed."
Pakistan has won medals at eight Olympics including gold in 1960, 1968 and 1984 but Siddique, who won 130 caps for Pakistan scoring 117 goals, feels the team is falling further behind rival countries.
Siddique, who led the side to one of their record four World Cup wins, added: "Not reaching the last four is very disappointing for Pakistan hockey. Other teams are playing very high skill hockey and Pakistan must improve.
"We need some surgery and we need some good infrastructure in hockey."
Pakistan manager Akhtar Chaudhry criticised his team for the manner of their defeat.
"The midfield was totally abolished and the forwards totally failed to win a single penalty corner," he said.
"Because of this bad play Pakistan lost 7-0. Today is the worst game and I have never seen Pakistan play like this before in my 47-year career."