Olympics basketball: US to meet Australia in last four
Last updated on .From the section Olympics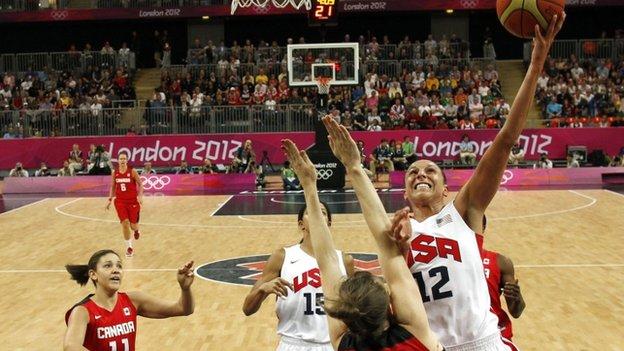 The United States will meet arch-rivals Australia in the women's Olympic basketball semi-finals.
The dominant US team have beaten Australia to the gold medal at the last three Games.
The US overwhelmed Canada 91-48 to stretch their Olympic winning streak to 39 matches while Australia defeated China 75-60.
Russia beat Turkey 66-63 and will face France, who overcame the Czech Republic 71-68, in the semi-finals.
Diana Taurasi top-scored with 15 points for the US but the scoreline could have been even more one-sided if they team had been more accurate with their shooting.
"We were missing a lot of easy shots, open shots," said Minnesota Lynx player Seimone Augustus.
"We'll try to make up for that in the semi-finals game and be more offensively efficient."
Canada have not beaten the US since 1975 and coach Allison McNeill said she was "thrilled" just to reach the Olympic quarter-finals.
In contrast, Australia are accustomed to meeting the US in the gold medal match, and would have been expected to have reached the final.
Lauren Jackson said it would be "strange" to meet their old rivals earlier.
"The last four years we've had since Beijing there's been a lot of changes within our program," said Jackson, noting an influx of new players.
"To get back in the semi-finals and be a medal contender is huge for us."
Centre Liz Cambage starred for Australia with 17 points, while Jackson added 12 to move one point ahead of retired Brazilian player Janeth Arcain as the Games' all-time leading scorer with 536 points.
The other last four contest sees gold medal contenders Russia taking on France on Thursday, after they beat Turkey and the Czech Republic respectively.
Turkey were tied with Russia 51-51 after the third quarter, but faded in the final 10 minutes. In the other quarter-final, France staged a remarkable comeback in the fourth quarter, coming from 10 points down to the Czech Republic to rack up a swift 30 to take the tie by three.