Olympics Synchronised swimming: Sport or Strictly Sub-Aqua?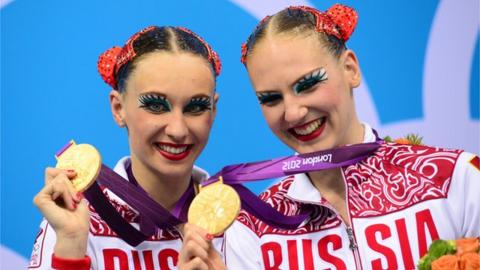 Whenever I think of synchronised swimming, I can't help thinking of squash. And whenever I think of squash, I imagine British and world number one James Willstrop watching synchronised swimming on the telly, sobbing into a beer.
This isn't a synchronised swimming hatchet job. Far too easy, been done far too many times before. This is about what is right and fair, about what gets into the Olympics and what gets turned away at the door.
And if you accept that the Olympics are a serious and largely sober sporting competition, then how can a sport that involves women with pegs on their noses dancing under water to the theme from Flubber get waved in while a sport that has a 200-year history and which is played in an estimated 185 countries gets told "sorry pal, your name's not down, you can't come in"?
I respect the participants of synchronised swimming and their indefatigability I salute. The French duet was throwing shapes to Tchaikovsky's Swan Lake, and that presumably takes some doing, especially when you're upside down, shin-deep in chlorinated water and trying to keep up with your mate next door.
But at what point does performance become sport? People have been dancing to Swan Lake for almost 150 years - they call it ballet. By extension, if you put a set of judges down in the orchestra pit at the Bolshoi, then ballet becomes sport.
That an activity takes an enormous amount of hard work and skill - you could say the same about dressage and rhythmic gymnastics - is not in itself a robust defence of its sporting integrity. The dancers who appear in Chicago in the West End every night no doubt practise like demons, but they don't get government funding and don't expect to be awarded any medals.
It does not help that, to the uninitiated, synchronised swimming is virtually impossible to follow. And that is key, because, while there were dedicated fans in the stands, many of the punters at the Aquatics Centre were not synchronised swimming fans per se, but Olympics enthusiasts who bagged tickets in the ballot and were just taking a look.
There were those in the crowd who clearly found the whole spectacle beguiling - the Spaniards' routine went down a storm, as did British pair Jenna Randall and Olivia Federici, who finished a creditable ninth. But there were others who left the Aquatics Centre even more baffled by the sport than when they arrived.
"Don't get me wrong, they're obviously talented," said Tina Hurley from Durham, "but, like dressage, it's not really a sport. I wouldn't complain if it was replaced by something else."
"It was fun for an afternoon," said Tina's husband James, "but having seen it in the flesh, I'd rather they had darts."
As a measure of its mystery, the South Korean duo, whose egg-beating (that is a move) appeared spot-on to me, finished last. Their rendering of baby elephants - they were interpreting a musical piece called 'Jungle' - was uncanny, but at the time they weren't in the pool, which may or may not have been their undoing.
The Spanish pair, who claimed the silver medal, danced an underwater tango. It got so raunchy, at one point I thought they were going to be ejected for heavy petting. Mercifully, at least for the kids present, it went no further than aggressive, point-blank staring and maniacal pouting.
While the Brits plumped for The Chemical Brothers, the Russians, daubed in white eye shadow and with giant eyelashes painted on, were inspired by macabre fairytales. How magnificently eastern European. Dressed as dolls - clockwork dolls, judging by some of their moves -
Meanwhile, back in Leeds, our man Willstrop was probably doing nothing more theatrical than repeatedly hitting a small rubber ball against a wall.
But that's the essence of Olympic sport, or at least it should be: easy to follow, easy to understand, with discernible rules and a discernible outcome. Although, as a man who writes about boxing, I realise I'm on slightly shaky ground with that last one.
Olympic organisers could have stuck squash in a glass box, stuck the glass box in front of Somerset House or Westminster Abbey - or dangled it from Tower Bridge if they'd so wished - and it would have gone down a storm.
But squash continues to loiter by the door while the International Olympic Committee bouncers consider whether to admit such sports as wakeboarding, rollerskating and climbing.
Proof that, for all that is good about the Olympics, it is far from being a sporting meritocracy. Keep on queuing, marbles: you never know, they might like the cut of your jib and let you in. But not before wushu.