Olympics volleyball: USA women through to semi-finals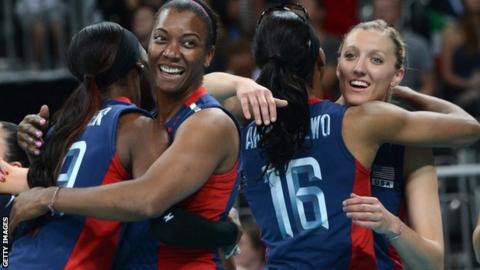 The United States women reached the Olympic volleyball semi-finals with a straight-sets victory over the Dominican Republic.
The Americans, who remain undefeated, managed the 25-14 25-21 25-22 win without injured captain Lindsey Berg.
Defending Olympic champions Brazil denied Russia match point five times before winning their match 3-2.
The Brazilians will face Japan in their semi-final, who overcame China 3-2, while South Korea beat Italy 3-1 and will play the US.
The Americans, currently number one in the world rankings, have never won a gold medal in indoor volleyball. They fell just short in Beijing in 2008, taking home the silver after losing in the final to Brazil.
USA coach Hugh McCutcheon said: "Every time we have stepped on the floor I think we have got a bit better and we did that tonight, which is particularly impressive without our starting setter.
"We have had many battles against the Dominican in the past and they are well coached. We are fortunate to come away with a victory."
Meanwhile, Fernanda Rodrigues's ace set up captain Fabiana Claudino's winner for Brazil's 24-26, 25-22, 19-25, 25-22, 21-19 victory over Russia.
Sheilla Castro top scored with 27 points for the Brazilians, who have advanced to the semi-finals in their last seven Olympics.
Saori Kimura and Yukiko Ebata scored 33 points each in Japan's 28-26 23-25 25-23 23-25 18-16 win.
The Chinese had previously beaten Japan in straight sets in all five Olympic matches between the nations since the sport debuted at the 1964 Tokyo Games.
But there will be no European involvement in the semi-finals after South Korea ended Italy's hopes of a place.