Olympics hockey: Great Britain teams have gold in their sights
Last updated on .From the section Olympics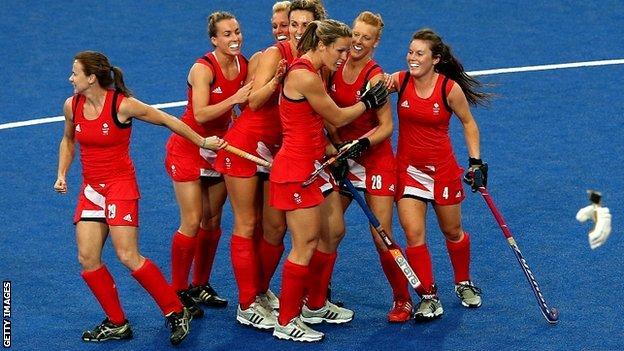 Great Britain's hockey teams are within sight of matching some famous names of the past after both the men and women reached the Olympic semi-finals in London.
The host nation last won an Olympic hockey medal when the women took bronze in Barcelona 20 years ago and Team GB have already ensured they will play for two medals at London 2012. But which colour?
Britain's women started their group matches in fine style with three straight wins, but defeats by China and the Netherlands meant they scraped into the last four.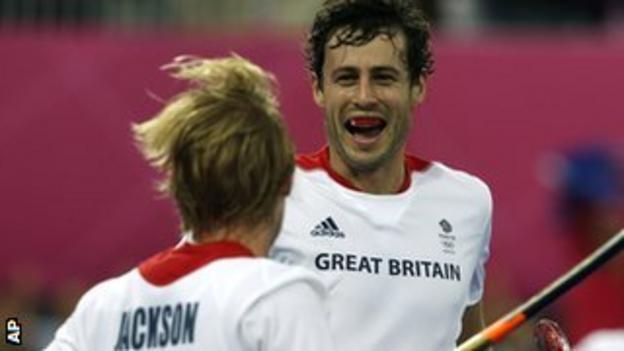 They next face world number two Argentina, with all-time great Luciana Aymar pulling the strings.
The GB men are undefeated after the group stage, with two wins and three draws - including a spectacular comeback from 3-0 down against number one side Australia. However, like the women their qualification was a nervy affair as they held on for the point they needed against Spain.
Next up is a daunting challenge against the Netherlands, ranked third. The Dutch won all five group matches, during which 36-year-old hockey legend Teun de Nooijer marked his 450th appearance with his 218th goal, while Mink van der Weerden scored five times.
Here, BBC Sport's Mel Clewlow, a former Great Britain international, and 1988 Olympic champion Sean Kerly assess the home side's chances.
Great Britain v Argentina, women's semi-final (Wednesday, 20:00 BST)
The form guide: "GB won't be happy with three wins and two defeats from their group games," says Clewlow. "After losing to the Dutch their coach Danny Kerry was furious - and rightly so. They've lost two pool games and it's only thanks to Japan beating China that they're into the semi-finals. I think they started the tournament really well and I thought this was one of the best British sides I've ever seen, but over the last two games they seem to have lost their way a bit. They're not creating as many chances as they did in the first three games and, at the moment, Criusta Cullen is the one putting the ball in the back of the net from penalty corners. When you get to the semi-finals, the big teams work out your strengths and obviously penalty corners is one of them for GB. Argentina will be looking to not give Crista that opportunity."
Key players: "Crista is definitely a key player from set pieces and I think Helen Richardson can get more involved in the game. She works hard off the ball, without question, but she's such a good player that she gets marked. Up front, Alex Danson constantly finds two players on her and I think what GB need to appreciate is that the best players in the team are going to be marked by two players, so there has to be somebody spare somewhere else. Before they've got the ball they need to know what they're going to do with it and move it on. If they can score the first goal that will give them the confidence and obviously get this massive crowd behind them."
The opposition: Argentina have probably the best player ever in Luciana Aymar - she's just phenomenonal to watch. She has five players around her and still comes out the other side with the ball. They have strength throughout: Carla Rebecchi is a good goalscorer and can also drag-flick, Aymar sits in central midfield, then you've got Noel Barrionuevo at the back, who's their corner specialist and a very good distributor. In all honesty, the key to beating Argentina is to beat them physically. The Americans did that to them in the pool game and if GB can come out and stamp their authority in that way, then they're in with a good chance. They've worked for three years to get to this situation and they're not going to get a better chance to win a medal."
Great Britain v Netherlands, men's semi-final (Thursday, 20:00 BST)
The form guide: "Simply getting to the semi-final is the most positive thing to come from the pool stage, and especially the brilliant fightback against Australia," says Kerly. "They needed a point against Spain in their last match and they did it by the skin of their teeth. They were very, very lucky to get out of that with what they needed. As soon as the Spanish scored that corner, the doubt crept in. Britain's game is based upon lots of running, lots of hard work and really aggressive defending from the guys at the front winning the ball. They stepped back once they were pegged back to 1-1 - you could see the fear, they shrunk back and tried to defend. That's exactly what the Spanish love because they then get time to run at you, work little one-twos and clever balls into the danger area, and they caused a great deal of trouble for that British defence."
Key players: "Ashley Jackson is the star man but he struggled to get into the game against Spain and when players mark him hard, space is at a premium and it becomes tough for him. As a team they've played well in patches, it's been a bit of a curate's egg so far. They haven't been brilliant all the way through, they've shown bits and pieces. James Tindall has looked good up front, Iain Lewers has looked strong at the back, James Fair has been pretty solid in goal and Barry Middleton has led his team well - but I don't think he's hit top form yet. We've seen flashes of Jackson's brilliance but the team in general haven't maintained the kind of performance level that coach Jason Lee is looking for."
The opposition: "The Dutch won all their pool games, they were reasonably comfortable and they say they want to play Britain - but I know, if you look in their eyes, they don't fancy it. It all depends on whether Great Britain can get their game together. Sometimes getting into the semis is the hardest part and the pressure is now off in some ways. The Dutch are ranked above them and if they lost there would be no disgrace in that, but I expect them to put up a real fight. Any of the top teams are vulnerable, you've just got to find their weak points."