Could China's domination of Olympic table tennis soon end?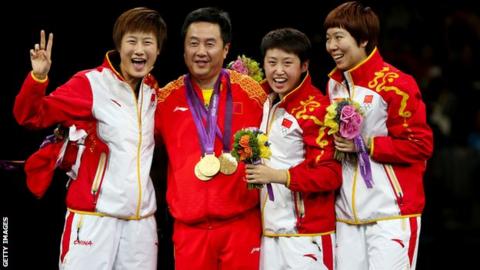 First there was the obligatory Mexican wave and then came the thunderous foot stamping.
China were one point away from retaining their Olympic women's team table tennis title and thousands of their flag-waving fans who were crammed into the 6,000-seater ExCeL Arena were intent on savouring victory. They knew gold would be theirs. It always is. If Britain is the home of ping pong then the sport's heart belongs to China.
"My mum and dad will be watching this back home even though it's 1am," said Wayi Wang, an enthusiastic Chinese student who had done her bit to participate in this festival of wiff waff by painting her nation's flag on both cheeks.
If Wang's parents had managed to stay awake beyond midnight then they would have been two of 90 million people to have watched live coverage of Li Xiaoxia, Ning Ding and Guo Yue demolish Japan 3-0 to secure their country's third table tennis title of London 2012. Out of 27 possible golds since the sport was added to the Olympics in 1988, China have won 23.
Stepping off the podium with gold medals swinging around their necks is a familiar feeling for the Chinese players, and so is the adulation which inevitably follows them.
It took the winning trio nearly an hour to walk through the throng of broadcasters who awaited them once the sound of the national anthem had died down.
From amidst the television crews' blinding lights you could hear the screams of dozens of young fans - cameras in hand and all on tiptoes - hoping for a glimpse in their direction from their heroes.
It was a scene normally reserved in this country for rock stars and football players, not diminutive sportswomen who excel at a sport London mayor Boris Johnson calls wiff waff.
The gold medallists eventually disappeared backstage, but the din did not vanish with them as the arrival of the tiny 5ft 1ins frame of Japan's silver medallist, Ai Fukuhara, caused her country's camera crews and photographers to clamber on top of each other in another moment of delirium.
"Super cute," was how one Japanese lady described Fukuhara, a 23-year-old who has already lived under the media spotlight for two decades after being labelled a genius of her sport at the tender age of 3.
The gracious world number seven, who made her senior international debut at the age of 10, is one of her country's most recognisable athletes and by helping Japan win a first Olympic table tennis medal Fukuhara and her team-mates have ensured their country is now a fully fledged member of the Asian table tennis superpowers.
"During the Olympics, table tennis has been the most watched sport in Japan," Adham Sharara, President of the International Table Tennis Federation (ITTF), told BBC Sport.
"Fukuhara and her team-mates are very attractive, they smile all the time, they're very friendly and, in Japan, they've become icons. Young kids love them."
Thanks to Fukuhara and co, the number of competitive players in the land of the rising sun has doubled in four years to half a million. While they might be building a hotel in the Chinese city of Huainan in the shape of an upside down ping pong paddle, take a stroll through a Japanese grocery store and you will find a ping pong table or two among the aisles of noodles and sushi.
"A lot of stores have space so people go shopping and play table tennis. It's a new thing which has happened over the last two years. It's fantastic," said Sharara.
Japan, the world's dominant force in table tennis nearly half a century ago, is successful again and the sport's increased popularity means Fukuhara and her team-mates, as well as their Chinese counterparts, were big news in south London.
You know you are in the middle of sporting royalty when a crowded room of journalists and photographers are asked to leave unless they are accredited for the impending news conference.
"We're expecting even more journalists so anyone who doesn't need to be here must leave or we won't have room," said the press officer before giving the world's media a deadline of 30 minutes with the gold and silver medallists.
It was a far cry from the dozen or so reporters who had earlier greeted the Singapore players after they won bronze in the competition, but even the Singapore trio of Feng Tianwei, Li Jiawei and Wang Yuegu had a group of eager fans - dressed head to toe in their national colours - patiently waiting for a picture.
All Chinese-born, the trio are household names in their adoptive country thanks to the team silver they won in Beijing four years ago and, along with China, Japan and South Korea, are now one of the sport's dominant forces.
It seems Germany, who rattled China in the semi-finals of the men's team event, are the only European nation capable of crashing the Far Eastern party, but according to Sharara sport is cyclical and there is light at the end of the dark European tunnel and it flickers in the red, white and blue of the French tricolor.
"I attended a practice session at national team level in China and they had 128 girls and 128 boys, all aged between 12 and 13, all training in the same hall with their coaches. It was amazing and these players were already at the level of many senior players in the other countries, but the country to watch is France.
"France now dominates table tennis in Europe at youth level, and not just the gold medal but first, second, third, fourth place. At Under-18 level their boys win everything.
"They decided to follow their tennis system, to start quite young, with the goal of being the best in Europe and they've achieved this very quickly. The next goal for them is to be the best in the world.
"France have flair and this is a very good thing because when you come against a nation like China you have to have something different, something new.
"Next Olympics you will see France in the semi-finals or finals and then they will challenge China, if they continue as they do."
If Sharara is a soothsayer of some talent then perhaps these Olympic Games will be the last to witness such Far East domination. But Asian countries have grabbed all but one of the table tennis medals available thus far and with China scouring its vast land to ensure its national sport continues to flourish then the Far East will continue to be the sport's heartbeat for quite some time.