Olympics 2012: Team GB athletes at London Games Day 12
Last updated on .From the section Olympics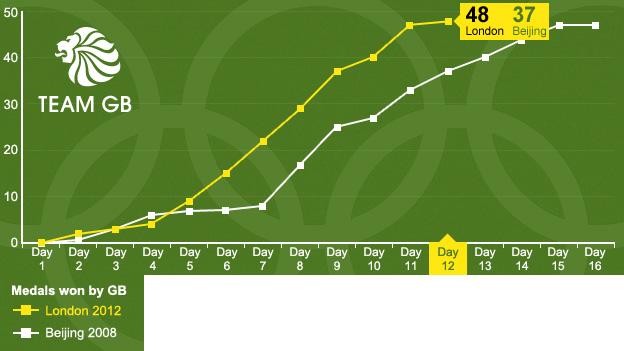 Great Britain failed to add to their medal tally on Day 12 of the London Games.
It was the first time since Day One that Team GB were unable to win a medal in what has been an otherwise successful Olympics.
They finished the previous day with a total of 48 medals - the best performance by British athletes for more than a century - and remain third in the medal table despite a barren Wednesday.
Despite a day without a medal, a number of British athletes have guaranteed themselves podium places, while others have given themselves a chance of winning Olympic gold, silver, or bronze.
Boxer Nicola Adams is guaranteed at least a silver after reaching the final of the women's flyweight competition, while sailors Hannah Mills and Saskia Clark are also certain to win a medal after a strong performance in the women's 470 class.
Here is a a sport-by-sport round-up of how every Team GB athlete performed on Day 12 of the 2012 Olympic Games in London.
ATHLETICS
Lisa Dobriskey qualified automatically from her 1500m semi-final with a time of 4:05.35. Hannah England, in the same race, finished ninth and did not make Friday's final. Laura Weightman, coached by 1500m silver medallist Steve Cram, grabbed a personal best of 4:02.99 and qualified for the final with a photo finish.
Lawrence Clarke misses out on a medal after finishing fourth in the men's 110m hurdles final.
Andy Turner comes fourth in his semi, and his time of 13.42 seconds is not enough to reach the final.
Desperate news for GB decathlete Daniel Awde as a knee injury forces him to pull out of the decathlon competition. Awde had set a modest distance of 6.83m in the long jump after failing with his first two attempts. He earlier achieved a new personal best of 10.71 seconds to win his 100m heat.
Mo Farah finishes third with a time of 13 minutes, 26 seconds in his 5,000m heat to qualify for Saturday's final. Nick McCormick finishes twelfth in his heat with 13:25.70, missing out on a final place.
Sophie Hitchon sets a new British record of 71.98m in the women's hammer throw heats and has qualified for the final to be held on Friday.
Steve Lewis qualifies from the pole vault heats after his jump of 5.50m was enough to secure his place in Friday's final.
Lynsey Sharp finishes second in her 800m heat with a time of 2:01.41 to qualify for Thursday's semi-final.
Christian Malcolm is out of the 200m after finishing third in his heat with a time of 20.51 seconds.
Shara Proctor finishes ninth in the women's long jump final with a mark of 6.55.
BOXING
Nicola Adams beats India's Mary Kom 11-6 and guarantees herself at least a silver medal in the process, after winning through to the gold medal match in the women's flyweight 51kg category.
Tom Stalker loses 23-22 to Mongolian Munkh-Erdene Uranchimeng in the quarter-final of the welterweight division and goes out.
CANOE SPRINT
Rachel Cawthorn, Jessica Walker, Louisa Sawers and Angela Hannah finish fifth in the women's K4 500m final with a time of 1:33.055.
Defending champion Tim Brabants loses his title in the men's 1,000m K1 kayak singles, having only scraped into the final he finishes eighth, eight seconds behind Norway's Eirik Veras Larsen. Canada's Adam van Koeverden is second, Germany's Max Hoff taking the bronze.
Richard Jefferies finishes seventh in the 'B' final for the 1,000m C1, with a time of 4:42.992.
CYCLING - BMX
Liam Phillips' time of 38.719 seconds in his seeding run puts him 12th going into Thursday's quarter-finals.
Shanaze Reade sets a time of 39.368 seconds in the seeding run to go into fifth position in the seedings for Friday's semi-finals.
DIVING
Monique Gladding finishes 19th in the standings with 301.45 points and Stacie Powell in 20th with 287.30 and neither qualify automatically for the semi-finals. Both are on the reserve list.
EQUESTRIAN
Nick Skelton on Big Star and Scott Brash on Hello Sanctos conceded penalties in their Round B ride of the Individual Showjumping to finish joint fifth and out of the medals. Ben Maher and Tripple X conceded penalty points in each round, meaning a ninth place finish.
HOCKEY
The women's side lose 2-1 against Argentina in the semi-finals of the tournament and will now fight for bronze with New Zealand.
SAILING
Lucy Macgregor, Annie Lush and Kate Macgregor lose 3-2 in their best-of-five Elliott 6m quarter-final with Russia.
Hannah Mills and Saskia Clark finish eighth in race nine and second in race 10 of the women's 470 to put them level with New Zealand's pair in the overall standings and guarantee themselves a medal in Friday's final race.
Stevie Morrison and Ben Rhodes finish fifth and therefore out of the medals in the men's 49er.