Rhythmic gymnasts 'deserve' Games at London 2012
Last updated on .From the section Olympics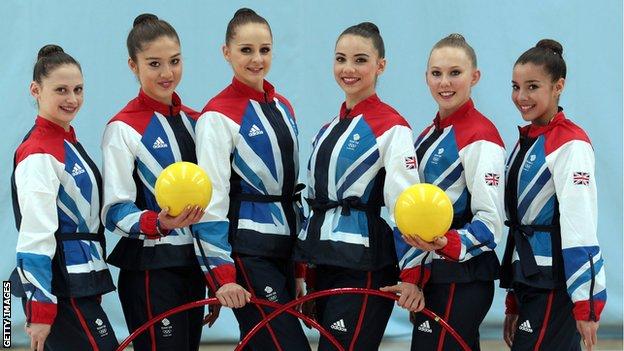 Jade Faulkner, who is part of the GB rhythmic gymnastic team, says they will prove they are worthy of a Games place.
"We need to show everyone we deserve our place, that we didn't get the place just through winning through court," the 18-year-old told BBC Wiltshire.
"[We want] to show that we can do two days of competition consistently."
Following the success of the men and women in the artistic gymnastics, including team bronze for Great Britain's men, there is little pressure on the group which includes Francesca Fox, Georgina Cassar, Lynne Hutchison, Louisa Pouli and Rachel Smith.
This is because the sport, which involves competing with balls, hoops and ribbons, have never sent a team to the Olympics.
Fox, who trains with Faulkner at the University of Bath with the rest of the team, said they struggled to come to terms with the possibility of not being able to compete when they were initially excluded.
"When we came back to the University, after we found out the news, we couldn't even train. We couldn't bring ourselves to even think that it could be over," the 20-year-old said.
"We didn't want to think like that because we were all so down and depressed about it.
"Training was hard over those weeks and months until we found out the good news and then we were all hyped for it again."
The team are self-funded, relying on sponsorship money for their training and using cash from their parents, but they also do fundraising events which include packing bags at supermarkets.
They group, who have used British figure skating champions Christopher Dean and Jayne Torvill to help their training, use these funds to rent a house for four of them and for coaching and equipment.
"I can't thank my mum and dad enough for how much money they've put in. I wouldn't want to work it out," Faulkner added.
"I really owe them back big time, I couldn't have done it without them."