London 2012: Jersey's wait for an Olympian continues
By Tim Pryor
BBC Radio Jersey sports reporter
Last updated on .From the section Olympics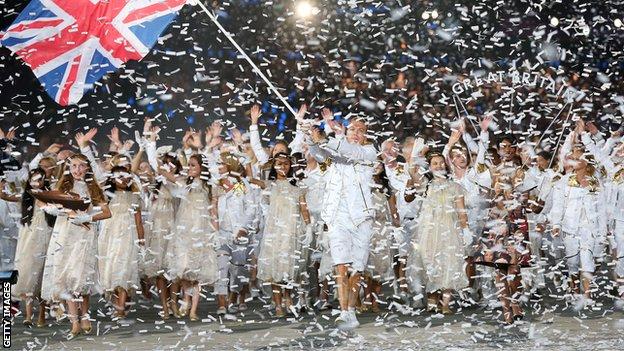 Although the drama and excitement of London 2012 was certainly felt and celebrated in Jersey, there was something missing.
For the third Games in a row there were no Jersey representatives.
The island has not had an Olympic competitor since 2000, when swimmer Simon Militis raced in Sydney.
Despite winning medal after medal at the biennial Island Games, it seems when it comes to the greatest show on earth Jersey has hit a barrier.
"It's such a shame we didn't have somebody," said Jersey Sports Council chairman Hugh Raymond.
"It's certainly not our facilities and coaches. I think there needs to be more financial support for the performance side of things.
"You can go so far in the island, but then you need the support to be able to go off island.
"It doesn't matter how good you are, unless you have the right competition you're never going to succeed."
While Jersey athletes missed out on London, Guernsey was represented by Heather Watson in the tennis and Lee Merrien in the marathon.
Meanwhile Sark's Carl Hester clinched the Channel Islands' first medal since 1920 when he struck gold in the team dressage event.
It ended the 92-year wait for success since and set an Olympic record in Antwerp, Belgium.
Jersey has far more recently had Paralympics success when dressage rider Simon Laurens picked up two medals in 2008.
Elizabeth Cann was one of the Jersey competitors who narrowly failed to make London 2012, despite being England's number one and the national badminton champion.
She left the island to follow her sporting ambitions in the UK and like Raymond believes money plays a large role in whether or not an athlete reaches the top.
"You need to be able to afford to have the right infrastructures in place and the right level of coaches within the island to be able to compete with the professional structures they have outside the island," Cann told BBC Radio Jersey.
"I can't speak for every sport but there may be the right level of coach available but then the money also has to be there for them to put the time into their athletes.
"You need to have training partners, you can't just be yourself with a coach, you need the people to practice against of the right level to be able to compete internationally.
"If you don't have the right set up in Jersey then you do need to go abroad to do it and I think Jersey could help athletes by supporting them financially even if they're not based in the island."
Jersey's Beckie Herbert also moved away from the island in pursuit of sporting success.
She went close to qualifying for London 2012, but was left heart-broken when she missed out on selection when the Team GB hockey squad was narrowed down.
She was also left out of the squad for the Games in Beijing four years ago.
"The Olympics is something I've wanted to try and win a medal at since I was a little kid," she said.
"Even two pretty massive setbacks aren't going to stop me in trying to go for that.
"Since I went to university aged 18 I haven't really been back in Jersey a great deal.
"I think you can see from the success the island has with sports people it is possible to come from a community like Jersey and still have success on the national and international stage."