Yelena Isinbayeva promises 2016 Olympics pole vault return
By Anastasia Uspenskaya
BBC Russian Service
Last updated on .From the section Olympics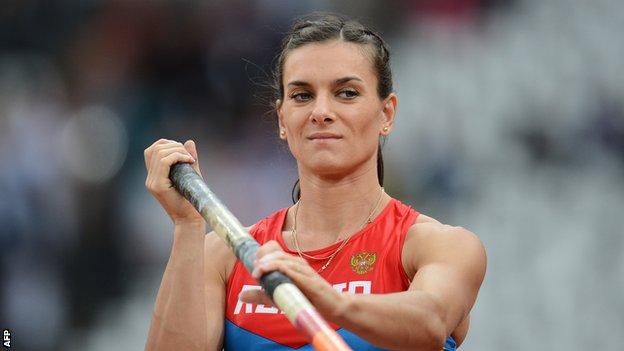 Russian pole vaulter Yelena Isinbayeva says she plans to compete at the Rio de Janeiro Olympics in 2016 in an attempt to win a third gold medal.
The two-time champion finished with bronze at London 2012, with American Jennifer Suhr taking the title.
"I wanted to leave on a golden note, with my head held high. That did not happen in London," she said.
"In 2016 I will be 34, still young enough to compete. Why not? I will go to Rio and get my gold back."
Isinbayeva, widely considered the greatest female pole vaulter of all time, took the bronze with a jump of 4.70m, which has often been her starting height in competitions, but looked out-of-sorts on a rainy, chilly evening.
"It was the worst weather for a pole-vaulter, you can't imagine - headwind and rain," said the world record holder.
"In such circumstances, the most important thing is to catch the wind. I did not catch it. My wings were wet, and I plopped down."
Isinbayeva also said her performance in London had not been helped by the personal pressure she had placed on herself.
"I wanted to become the first ever woman to win three consecutive Olympic golds in the pole vault, I wanted to be a legend, and that itself added additional responsibility and additional pressure," she said.
According to her coach Evgeniy Trofimov a leg injury she sustained shortly before the Olympics hampered Isinbayeva.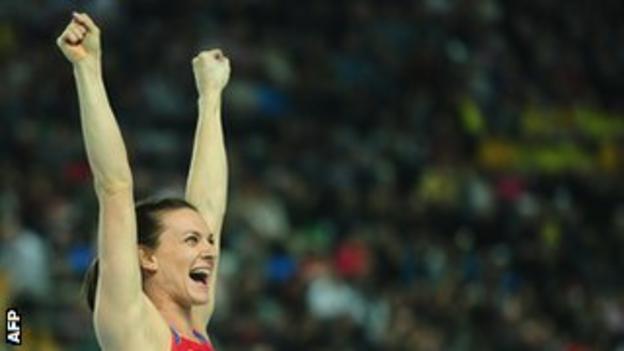 "I saw during training that after each jump she would rub her foot," he explained to the BBC's Russian service.
"I took her to the doctor, and we found a one-and-a-half-centimetre muscle tear. We lost some very important weeks leading up to the Games where she could not exercise. She lost her feel for the jump."
Isinbayeva is now focused on preparing for the 2013 World Championships, which will be held in Moscow.
She says she then wants to take a break for a year and have a child - which she says will be another spur to do well at the Games in Rio in four years' time.
Trofimov supports Isinbayeva in all her plans, but added: "I don't rule out that tomorrow or the day after that she changes her mind again."