What has gone wrong with Kenya's runners?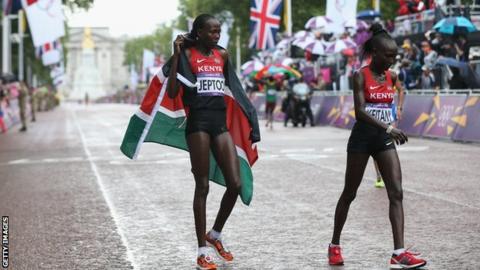 Kenyan world champion David Rudisha had the weight of a nation on his shoulders when he ran the 800m final on Thursday night. Despite his record-breaking win, London 2012 has not lived up to expectations for the country's renowned runners.
Kenya came to London 2012 with a running team expected to win several golds, but their Olympics have been a major disappointment.
They have only picked up two golds so far - in the 3,000m steeplechase and Rudisha's victory - in a track-and-field medal haul which also includes two silvers and two bronzes. This from a team boasting three Olympic and four world champions.
In the women's marathon, pre-race favourite Mary Keitany could only manage fourth place, with the event being won by Tiki Gelana from Kenya's arch-rival Ethiopia.
Tirunesh Dibaba, another Ethiopian, successfuly defended her 2008 Olympic title in the women's 10,000m, beating Kenya's Sally Kipyego and Vivian Cheruiyot.
In the men's 1500m - an event won by Azbel Kipruto Kiprop in Beijing - the best of Kenya's three finalists could only manage seventh place.
Compare this to Beijing four years ago. Then, Kenya enjoyed their best-ever showing at an Olympic Games. They went home with 16 medals, including six golds from the track events at the "Bird's Nest" stadium.
Some have said the expectations for London were too high, even if Kenyans had continued to dominate events such as the World Championships.
The reception back at home has not been sympathetic - '1500m collapse exposes Team Kenya rot' ran the headline on Kenya's Capital FM website, while the Daily Nation's Elias Makori said the sport's governing body had to take the rap for the team's dismal effort.
"The pre-Games tension between the National Olympic Committee of Kenya and Athletics Kenya has thrown Kenya's campaign to the dogs," he wrote.
"It is sad watching our sports officials, with their bloated egos, fighting turf wars at the expense of the country's respected name and image."
BBC Swahili's Peter Musembi said the high expectations before the Games may have been unrealistic.
"Apart from Kenya's loss in the men's 1500m, there is nothing really strange about their performance so far," said Musembi.
"Dibaba recovered from injuries that had kept her out of action for a few seasons to defend the title she won in Beijing four years ago.
"But Kenyans had been confident and expected gold from world champion Vivian Cheruiyot, who has enjoyed several seasons in the absence of Dibaba and had also beat her three times.
"Kenyans are also bitter that the women's marathon title went to an Ethiopian and that Mary Keitany, who has been on top form, did not deliver as expected.
"But they forget that Kenya has never won gold in the women's marathon - they won silver in Beijing, and they just matched that in London with Priscah Jeptoo finishing second."
He added that the failure to win gold in the men's 10,000m - an event won by Britain's Mo Farah - should not be regard as a failure as for the last decade the race has been dominated by Ethiopia's Kenenisa Bekele.
Signs of problems within the Kenyan team began to appear in the training stages, with disagreements arising between the athletes and coach on the one hand and officials on the other.
The team initially resisted plans by Kenyan Olympic chiefs to train in Bristol in the west of England, saying they needed to train at high altitude in Kenya for as long as possible and fly into London just before the events began.
In the end the team did as they were told and travelled to England. But the long-distance runners, who needed high-altitude training, reportedly did stay behind in Kenya.
Critics say their disappointing performances in the women's marathon and the 10,000m race cannot be blamed on conditions in Bristol.
Some of the athletes blame their failings on the fact that their Ethiopian rivals can now anticipate their running strategies.
They also say they are unsettled by the Ethiopians who run right behind them throughout the race and then take the lead at the end with a sprint.
Some back home are already so disappointed that they have named this year's team as their worst since the 1964 Tokyo Olympics, when the team won just a single medal.