Olympics medals: National winners and losers at London 2012
Last updated on .From the section Olympics347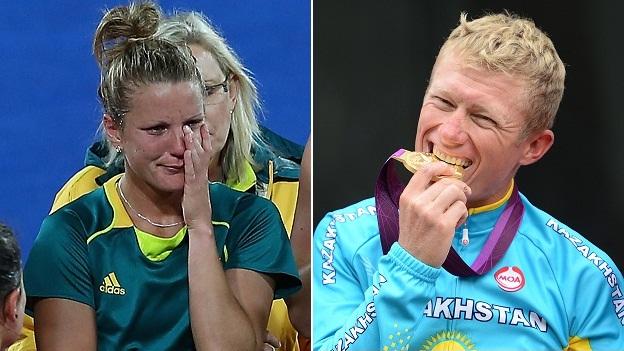 Which countries look like being the big winners and losers in the London 2012 medal table?
Early panic may have subsided in the host nation following an avalanche of gold medals - Team GB now have 22, and 48 medals in total - but Olympic hand-wringing continues unabashed elsewhere.
Australian misery is particularly keenly felt. The country's sports minister, Kate Lundy, will row the Eton Dorney course in British kit after losing a bet with UK counterpart Hugh Robertson.
Australia had hopes of challenging Britain in the medal table, but have only five golds at the time of writing. Inquiries have already begun into a dismal showing in the pool, where no Australian won an individual title for the first time since 1976.
Instead, it was China that tore through the pool, their five Olympic titles denting American dominance in the water for the first time, although the US team as a whole remain their usual consistent selves. Less so, Russia. Will the Russians even be able to retain third place this time? It looks unlikely.
Meanwhile, coming up on the outside are some new powers. Here, BBC Sport looks at the medals for clues to the future shape of world sport.
CHINA
BEIJING MEDALS: 51 golds, 21 silver and 28 bronzes
LONDON 2012 TARGET: Expecting a reduction, but less than the 30% average for host countries in the next Olympics
TOTAL SO FAR: 35 golds, 21 silvers and 18 bronzes (correct at 18:00 BST, 8/08/12)
HOW'S IT GONE? China has set quite a few new records, with swimmers Ye Shiwen and Sun Yang becoming the nation's brand-new superstars. They have also maintained leads in sports they have traditionally excelled in, including gymnastics, badminton and diving.
But China's London journey has also been filled with shockers. These include the playing to lose scandal in the women's badminton doubles, with top seeds Yu Yang and Wang Xiaoli among eight disqualified players.
And Liu Xiang's exit in the 110m hurdles heats is without a doubt the biggest blow so far. As the Chinese public express their support for the 29-year-old hurdler, the discussion on whether China's athletes are under too much pressure to win goes on.
WHAT THEY SAID: In a telegram sent on Tuesday, the country's three national sporting agencies, led by the State General Administration of Sport, said: "Chinese athletes have confronted seriously unfavourable conditions and challenges, and they have overcome hardships and have been fighting bravely."
To China's state media, those "seriously unfavourable conditions" would include what they call "long-time prejudice against China", especially in the case of Ye, whose record-breaking displays were met with suspicion by some.
SUCCESS OR FAILURE? The key question will be whether China beat the US to top the medal table.
UNITED STATES
BEIJING MEDALS: 36 golds, 38 silvers and 36 bronzes
LONDON 2012 TARGET: 42 golds and 97 medals overall
TOTAL SO FAR: 30 golds, 19 silvers and 22 bronzes (correct at 18:00 BST, 8/08/12)
HOW'S IT GONE? With more than 500 athletes, the US team is one of the biggest at the Games. So it is no surprise they are top of the medal count, battling it out for first place with China. While the tally is about what watchers expected, the path to the podium has not always been as predicted.
The men's gymnastic team, which was billed as one of the best in recent US Olympic history, turned in a lacklustre performance with only one medal. Lolo Jones (athletics) Jordyn Wieber (gymnastics) and Ryan Lochte (swimming) fell short of lofty expectations, but upstarts like Kayla Harrison (gold in judo) and Galen Rupp (silver in the 10,000m), exceeded them.
Proven stars such as Michael Phelps and Venus and Serena Williams delivered golds. However, for many Americans, the fun of the Games is discovering new athletic idols or being moved by the latest triumph over adversity while they wait for the next trip to the podium.
WHAT THEY SAID: Bill Simmons from American television network ESPN: "The Olympics always turn out the same for us: We show up, we win more medals than we lose, we create a few new heroes, we go home. The Olympics will always be a successful, reliable franchise for America, no different than Starbucks or 60 Minutes."
US Olympic Committee spokesman Patrick Sandusky added: "We are a little bit behind where we were in Beijing, but we are still having really good performances. Our goal coming into the games was certainly to finish top of the medal count, and we are having good progress, but you know we are not taking anything for granted."
SUCCESS OR FAILURE? As expected, the US are performing strongly, with stand out performances from both old stars and new favourites.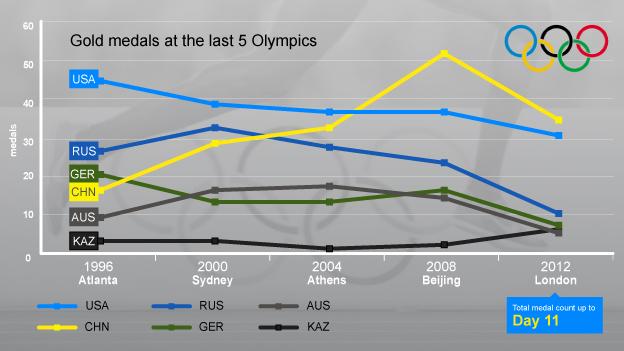 RUSSIA
BEIJING MEDALS: 23 golds, 21 silvers and 29 bronzes
LONDON 2012 TARGET: Not to fall below the Beijing total
TOTAL SO FAR: 10 golds, 18 silvers and 20 bronzes (correct at 18:00 BST, 8/08/12)
HOW'S IT GONE? There were some athletes who everybody in Russia thought were going to win gold in London. However, 2004 and 2008 pole vault champion Yelena Isinbayeva only finished with bronze and Greco-Roman wrestler Hasan Baroev - the 2004 champion and 2008 silver medallist - lost in his first fight.
World champion fencer Aleksey Yakimenko did not make it to the quarter-finals of the individual sabre and Valery Borchin, the 20km walk champion from Beijing, could not defend his title. The Russian shooting team, packed full of previous Olympic champions, took only one bronze.
WHAT THEY SAID: Aleksander Zhukov, Russian Olympic Committee president: "Of course we would like to have more gold medals, but that's sport where so much depends on luck. The Russian team is a little behind the Athens and Beijing schedules with gold but in the total number of medals we are a little bit ahead."
Sport-Express newspaper: "Our curve of wins goes down. The number of Russian medals after nine days of Games ranges from 31 to 39 at the last five summer Olympics, with 35 in London - not the worst result. But there is a clear reduction in the quality of Russia's medals and this is probably the most disturbing signal sent by statistics."
SUCCESS OR FAILURE? Russia are disappointed by the relative lack of gold medals so far, but have medal hopes in wrestling, boxing, athletics, swimming and rhythmic gymnastics, which could turn things around.
GERMANY
BEIJING MEDALS: 16 golds, 10 silvers and 15 bronzes
LONDON 2012 TARGET: No data available
TOTAL SO FAR: Seven golds, 15 silvers and 10 bronzes (correct at 18:00 BST, 8/08/12)
HOW'S IT GONE? Germany have a long way to go to match their performance in Beijing four years ago. It has not quite provoked an air of national crisis, but has prompted reams of thoughtful analysis, much of it sad and most of it good-humoured.
When Germany have won they have celebrated in spectacular fashion. Discus gold medallist Robert Harting sprinted bare-chested down down the track, leaping over the barriers set up for the women's 100m hurdles race.
But that doesn't overshadow the disappointments. In particular, the country is asking the swimmers what went wrong after they left without a single medal for the first time in 80 years. The German golds have not been in the biggest, most popular sports. They won in two equestrian events, two in rowing and one in the track cycling.
WHAT THEY SAID: "In the end, it's about the score. Sometimes it was just bad luck," said defence minister Thomas de Maiziere. "Sometimes we expected gold and got silver. Perhaps, the problem is that some people thought participation in the Olympics was enough. What we need in sports, and in society, is a burning desire to win and not just 'being there is everything'."
SUCCESS OR FAILURE? The country's most popular newspaper, Bild, said it was about to sound a "Gold Alarm" on Tuesday because of the scarcity of first places. But there are hopes that a late surge of medals might provide some respite.
KAZAKHSTAN
BEIJING MEDALS: Two golds, four silvers and seven bronzes
LONDON 2012 TARGET: Three gold medals
TOTAL SO FAR: Six golds and two bronzes (correct at 18:00 BST, 8/08/12)
HOW'S IT GONE? Kazakhstan's athletes didn't wait long to serve notice of their ambitions with Alexandre Vinokourov winning the men's cycling road race a day after the opening ceremony. Five more gold medals followed, four in weightlifting and one in the women's triple jump.
The weightlifters set a number of Olympic and world records. Svetlana Podobedova, winner of the women's 75kg category, set an Olympic record of 161kg in the clean and jerk. Zulfiya Chinshanlo lifted another world record of 131kg in the clean and jerk as she took gold in the women's 53kg category.
For the men, Ilya Ilyin set a new world record in the 94kg clean and jerk and defended his Beijing title to become a double Olympic champion.
WHAT THEY SAID: "Kazakhstan's athletes have smashed all the records. They continue astonishing us," wrote news website vlast.kz.
Weightlifter Podobedova said: "I am overwhelmed with emotion. I am an Olympic champion! A few minutes after my victory I was congratulated by the president of Kazakhstan, Nursultan Nazarbayev, on the phone. It will last a lifetime."
SUCCESS OR FAILURE? Kazakh athletes not only won a record number of gold medals, but set a number of new records, making it an unprecedented Games for the country.
AUSTRALIA
BEIJING MEDALS: 14 golds, 15 silvers and 17 bronzes
LONDON 2012 TARGET: Top five finish/45 medals
TOTAL SO FAR: Five golds, 12 silvers and nine bronzes (correct at 18:00 BST, 8/08/12)
HOW'S IT GONE? Australia have not had the best of Games, leading to tongue in cheek suggestions that their national sporting colours of green and gold should be changed to green and silver. They have already announced they will hold an independent review after leaving London 2012 with the worst Olympic medal tally in swimming for 20 years.
Ten medals were secured in the pool but that is half the total of Beijing. James Magnussen, 100m freestyle world champion, was a big hope but ended with one silver and one bronze.
Gold medals failed to materialise as expected in rowing, while 100m hurdler Sally Pearson has won the sole track gold. The inquest into performances has led to debate about Australian coaches being poached by overseas rivals in sports such as rowing, cycling and swimming.
WHAT THEY SAID: "It is just that the world has stepped up and they have just reined us in, and hopefully we will just be doing the reining in next time and that's just the way it goes. It goes in waves," said Cate Campbell, a member of the victorious women's 4x100m freestyle relay team.
"Unfortunately it's taken the debacle at London to really highlight the decline of school sport in the Australian educational system," said Dr Steve Georgakis, a senior lecturer in Pedagogy and Sports Studies at the University of Sydney.
SUCCESS OR FAILURE? Australia have finished at least sixth in the medal table at the last three Olympics before London 2012 but the under-par swimming performances mean that will not now happen.