Cian O'Connor wins Olympic bronze seven years after lost gold
Last updated on .From the section Olympics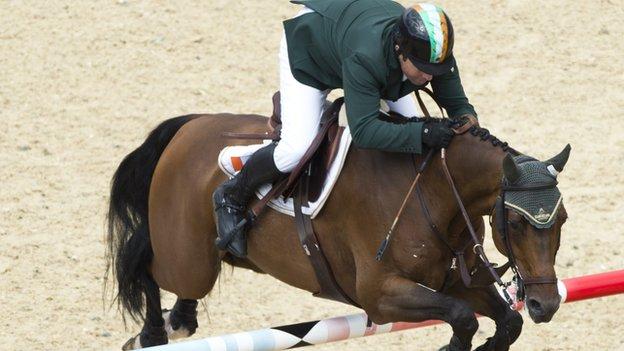 Irish show jumper Cian O'Connor has won an Olympic bronze medal some seven years after being stripped of the Athens Games gold.
O'Connor lost the 2004 Olympic Athens gold after his horse failed a drugs test and he served a three-months ban.
The Irishman was only first reserve for Wednesday's final after finishing outside the qualifiers on Monday.
However, his horse Blue Loyd 12 had only one time fault in his two rounds in Wednesday's final as he won bronze.
Switzerland's Steve Guerdat, riding Nino des Buissonnets, was the only competitor to jump a double clear with O'Connor an agonising .02secs outside the allotted time of 80 seconds.
O'Connor and Dutchman Gerco Schroder then went into a jump off for silver and bronze after both finished on one fault.
In the jump off, Schroder went clear in 49.79 seconds which looked a beatable time.
O'Connor was well ahead of the time target during his round but he had the final fence down and had to settle for bronze.
However, judging by O'Connor's reaction after his round, he appeared well satisfied by his performance.
O'Connor was only a late call-up for the London Games after original selection Denis Lynch was dropped from the team.
Lynch's horse Lantinus was disqualified at the recent Aachen Show after being found to be hypersensitive.
O'Connor's horse Waterford Crystal failed a drugs test after he finished first at the Athens Games and the Irishman was stripped of his gold medal the following March by the sport's international governing body.