Sprinter Christian Malcolm ponders post Olympic future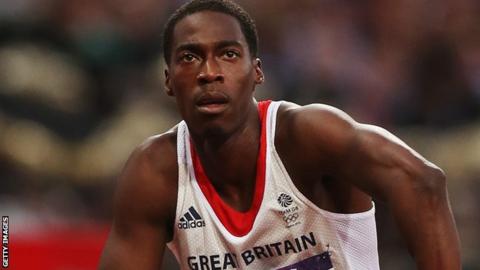 Christian Malcolm has said he wants to represent Wales at the Commonwealth Games in two years' time but fears his age may rule him out.
Malcolm's career as an individual Olympic sprinter is over after he missed out on a spot in the 200m final.
The 33-year-old finished third in his semi-final but missed out on a fastest loser place.
"I'll be honest I really want to be at Glasgow 2014 but I just don't know," Malcolm said.
"Last year in Daegu [World Championships] I felt I was going well [in the] pre-training camps and I went in and didn't run well.
"It's happened again this year so I'm thinking to myself 'Am I getting too old now?'
"It makes it even more difficult there's a World Champs in between now and Glasgow 2014 but I'll see after we analyse what I'm going to do."
Cardiff-born Malcolm had already said London 2012 - his fourth Games - would signal his Olympic swansong.
Malcolm had finished fifth in the 200m final in Beijing four years ago but but missed out on a fastest loser place by less than two tenths of a second.
"It's very frustrating. I came here wanting to make a final and that was my target and I'm not there," he added.
"I wasn't pleased with that. 20.51 [seconds] - I'm better than that and I've been training better than that.
"It's a tough one to take in right now. I expected a lot more of myself at these championships.
"I always find my pre-training camps going into champs going really well.
"And then at the championships I really start to pick it up there no matter what goes on earlier on in the season.
"I'm not going to make excuses and say I was ill and this and that because I'm in good shape."