Olympics 2012: Team GB athletes at London Games Day 13
Last updated on .From the section Olympics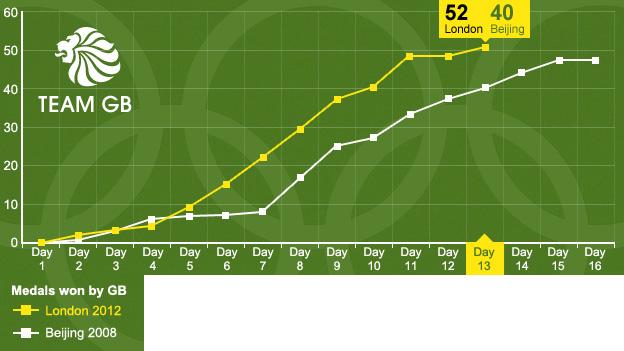 A sport-by-sport round-up of how every Team GB athlete performed on Day 13 of the 2012 Olympic Games in London.
Britain finished Day 13 on a total of 52 medals, compared with 40 at this stage at Beijing in 2008, with 25 golds keeping them third in the medal table.
ATHLETICS
Team GB's men's 4 x 400m relay team of Nigel Levine, Conrad Williams, Jack Green and Martyn Rooney are through to Friday's final after posting a season's best time of 3:00.38, matching the time of first-placed Trinidad and Tobago.
Lynsey Sharp misses out on the final of the women's 800m, as she finishes seventh in her semi-final with a time of 2:01.78.
Andrew Osagie finishes eighth in the men's 800m final with a time of 1:43.77.
BOXING
Nicola Adams makes history by winning the first Olympic gold medal for women's boxing with a 16-7 win over one of her main rivals, Ren Cancan of China.
CANOE SPRINT
Rachel Cawthorn finishes sixth in the final of the women's kayak single with a time of 1:53.345 despite a strong finish.
Abi Edmonds and Louisa Sawers finish third in the B final of the women's kayak double 500m posting a time of 1:46.341.
CYCLING - BMX
Liam Phillips qualifies for Friday's men's BMX semi-finals, finishing in second place in each of the three qualifying heats which safely sees him through.
EQUESTRIAN
Charlotte Dujardin and her horse Valegro take gold in the final of the individual dressage with a score of 90.089. Laura Bechtolsheimer on Mistral Hojris wins bronze in the same event with a score of 84.339, while Carl Hester finished fifth with 82.857.
GYMNASTICS
Frankie Jones is in 21st place after the first day of qualifying in the individual all-around rhythmic gymnastics, she will compete again on Friday where the top 10 qualify for the final.
Team GB's team of Georgina Cassar, Jade Faulkner, Francesca Fox, Lynne Hutchison, Louisa Pouli and Rachel Smith sit 11th after the first qualifying rotation in the team all-around rhythmic gymnastics with a score of 24.150.
HOCKEY
Great Britain lose 9-2 to the Netherlands in their men's hockey semi-final. They will play Australia in a bronze medal match on Saturday.
SAILING
At Weymouth, Thursday's races were postponed because of light winds. This means Luke Patience and Stuart Bithell will have to wait until Friday for the men's 470 medal race.
SWIMMING
Keri-Anne Payne finishes in fourth place after a gruelling two hours in the women's open water 10km swim. Her time of 1:38:36.6 is not quite good enough for a medal.
SYNCHRONISED SWIMMING
Great Britain's team of Yvette Baker, Katie Clark, Katie Dawkins, Olivia Federici, Jennifer Knobbs, Vicki Lucass, Asha Randall, Jenna Randall and Katie Skelton sit in sixth after the technical routine with a score of 87.300, with the free routine to take place on Friday.
TAEKWONDO
Jade Jones wins gold in the women's -57kg, beating China's Yuzhuo Hou 6-4 in the final.
Martin Stamper loses his men's -68kg bronze medal match 5-3 to Afghanistan's Rohullah Nikpai, after losing his semi-final 9-6 to Servet Tazegul of Turkey.
WATER POLO
Team GB are out of the women's competition after losing their final game to Italy 11-7.
WRESTLING
GB's Ukranian-born wrestler Olga Butkevych is out at the qualifying stage of the women's 55kg freestyle, losing to Lissette Alexandra Antes Castillo of Ecuador.