Olympics high jump: Chicherova and mothers dominate high jump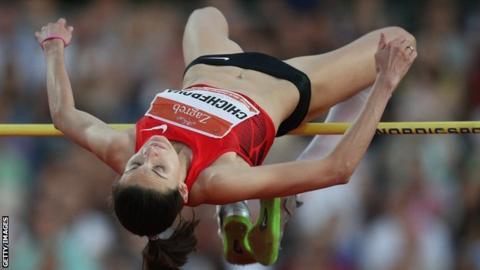 Three of the top contenders for the gold medal in the women's high jump are new mothers.
The favourite, 30-year-old Anna Chicherova of Russia, won the 2011 World Championships just three months after the birth of her first child.
Defending champion Tia Hellebaut, 34, missed 2009 and 2011 to have children, while world indoor champion Chaunte Lowe, 28, had a second daughter last year.
The first qualifying round begins at 09:30 BST on Thursday.
Lowe's United States team-mate Amy Acuff also competes in the high jump after recently entering motherhood and she believes becoming a parent has helped her preparation for the sport.
"I think motherhood changes your brain and how you think," she said.
"It allows you to multitask a lot more and to be able to focus on a lot of things at once. I feel like I am better now in my brain chemistry to be able to not just get narrowly focused and monitor a lot of things.
"People don't realise it, but you have to keep track of a lot of stuff in high jump. It's not only these angles and this rhythm and this tempo and these body positions. Everything has to be dialled in to perfection."
Croatia's Blanka Vlasic, who recorded the second highest jump of all time with a 2.08m at a 2009 meet in Zagreb, will miss the Games after suffering a bacterial infection in an Achilles tendon injury.