Olympics 2012: Bobby White upbeat for handball's future
Last updated on .From the section Olympics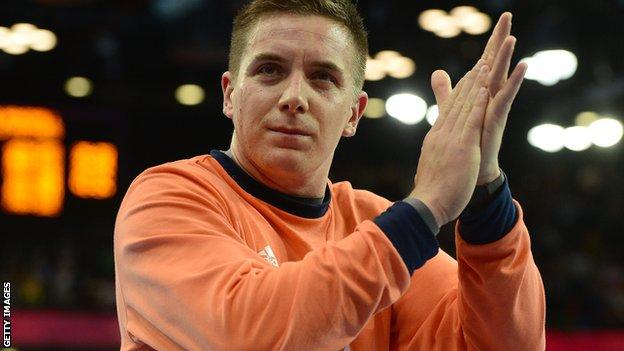 Great Britain handball captain Bobby White believes tough lessons learned at London 2012 will benefit the team in years to come.
They lost all five matches and finished with a goal difference of -96.
"We had some really difficult matches, against France, Sweden and Iceland, and succumbed to heavy defeats.
"We might not have the ability to compete with these teams properly yet but in a few years we definitely will be," he told BBC Radio Northampton.
The GB men's team was only formed in 2007 and, despite their results, White said the main objective of raising the game's profile had been achieved.
"It's such a fantastic sport. Every person I've ever introduced to handball falls in love with it immediately.
"It's completely different to what they think it's going to be like and with the exposure we've had at the Olympics, hopefully it's really going to catch on in this country now," the 29-year-old said.
White, who is moving back to the UK after playing abroad, believes one of the the main focuses in the next few years should be to increase the number of handball clubs around the country.
"I've got a role based at Biddenham College in Bedford with the British Handball Association to develop a Centre of Excellence, so there are going to be opportunities around.
"Hopefully, people will go with it because it's such a fantastic sport and if they just try it the once, I'm sure they're going to be hooked," he added.