London 2012: Mara Yamauchi unsure of future plans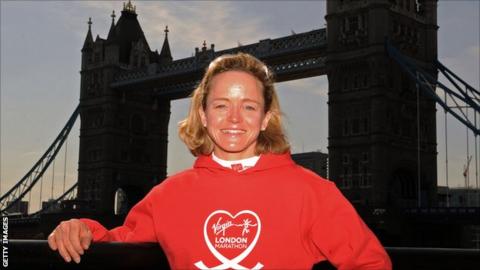 British athlete Mara Yamauchi says she is undecided on whether she will continue running after dropping out of the London 2012 Olympic marathon.
Oxfordshire-born Yamauchi bowed out after 10km of the race on Sunday after suffering a foot injury and admits she does not know if she will race again.
"I have to get my foot better and then think carefully about what I do," Yamauchi told BBC Radio Oxford.
"Do I continue to run competitively or do I retire or do I do something else?"
Yamauchi, 38, revealed she had suffered an injury in January that she thought had healed, only for it to resurface again in May.
Despite knowing she was not fully fit Yamauchi feels that she made the right decision in running in the race.
"I got a heel bruise in January, but I got rid of it," she said.
"I built up to fitness but it came back at the end of May. It was quite painful but I decided to run.
"Standing on the start line I was confident I could do a good run, I knew it might hurt, but by 10km it was unbearable.
"The crowd went quite quiet but they were so kind, they applauded me and I was really grateful for their support.
"I feel I did the right thing, I wanted to give it a go, had it not have been the Olympic marathon maybe I wouldn't have raced.
"It's a shame how it ended, but I'm glad I gave it a go."