Irish athletics: High jumper Deirdre Ryan misses out on final
Last updated on .From the section Olympics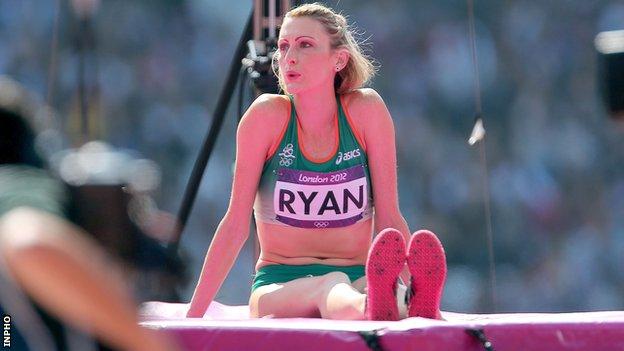 Irish high jumper Deirdre Ryan was unable to repeat her heroics of last year's World Championships as she exited in qualifying at the Olympics.
Ryan, who finished joint sixth in Daegu, could only manage a best clearance of 1.85m which was .08m off the qualifying mark.
"It just wasn't there today," said the 30-year-old.
"I had a couple of good jumps over 1.90m that were close. I've been struggling all season technically."
Ryan's immediate build-up to London was also hampered by a back injury which has affected her training over the past fortnight although she refused to advance this as an excuse.
"I've been so up and down. I've jumped 1.83m on many occasions, and I nailed a 1.90m performance once this year.
"It just hasn't been a smooth season but I thought on the day I could bring it out.
"It's also been a troublesome two weeks with a back injury.
"I didn't feel it today, the medical team were fantastic and they have been treating me twice a day. When I warmed up I couldn't feel anything, so it's no excuse really.
"I struggled to find my rhythm. Although I feel I am fit, I can't technically get the rhythm in the last few strides and I'm not able to hit the take-off."
Ryan finished 27th overall in the highly competitive qualifying competition which saw Greece's Adonia Steryiou and Germany's Ariane Friedrich failing to make the final even though they cleared 1.93m.