Nicola Adams wants to defend Olympics boxing title in Rio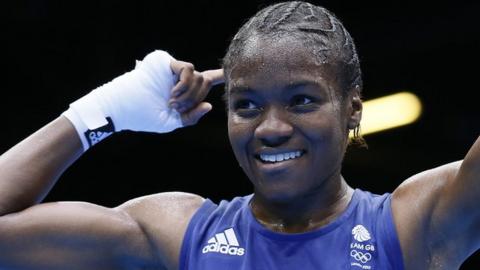 British boxing gold medallist Nicola Adams is likely to turn down offers to turn professional in order to defend her Olympic flyweight title at the 2016 Games in Rio.
The 29-year-old became the first female boxer to win an Olympic gold medal when she outclassed China's Ren Cancan.
"There is an option of going pro but I'm happy with the amateur game and 2016 is an opportunity," she said.
"It would be nice to see what the opening ceremony there is like."
Adams won Great Britain's 24th gold medal of London 2012 with a convincing performance against three-time world champion Cancan.
She knocked her opponent to the canvas in the second round and dominated the bout with some incisive jabs and clubbing right hands on her way to a 16-7 victory.
The one-sided nature of the fight surprised Adams, who was delighted to seal her place in history by becoming the first ever female to win boxing gold.
"There's a lot of women out there who have retired from the sport who would have loved to have been boxing at the Olympics," she said.
"Now the time has come, it's finally here. What a place to showcase women's boxing. I can't believe the support we've had. It's really great how the British public has got behind women's boxing."