Wales' Jade Jones had to 'stop being a baby' to reach final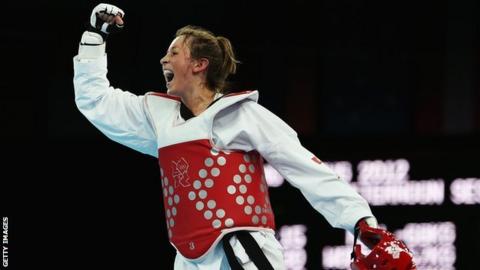 Wales' Jade Jones had to "stop being a baby" to beat Chinese Taipai's top seed Li-Cheng Tseng to reach her taekwondo final in which she will bid for gold.
Jones, 19, beat Tseng 6-10 after dramatically fighting back and faces China's Yuzhuo Hou.
"This is the Olympic gold I want so I started to go for it and stopped being a baby, really," said the fourth seed.
She will analyse Hou's bouts, eat and "chill out" ahead of Thursday's 22:15 BST final.
"The atmosphere was overwhelming, I can't even explain.
"I tried to imagine it because everyone said it was so loud... I came out and it was just like whoa, it's crazy.
"One more [bout left] so I'm going to go back and get focussed and go for gold."
Earlier Jones beat Japan's Mayu Hamada in the quarter-finals and Serbia's Dragana Gladovic on her Olympic debut.
Tseng, 21, had beaten Andrea Paoli of Lebanon 5-2 in her quarter-final.