Olympics football: Women's football an Olympic triumph

By Paul Fletcher
BBC Sport at Wembley
Last updated on .From the section Olympics
If the emotional state of the players reflected the quality of a tournament then women's football at the Olympics was right up there.
Christine Sinclair scored a hat-trick but it was not quite enough as the US struck in the last minute of extra-time. The striker's goals took her up to 143 in international football but Sinclair said she would give them all up to be in the final.
If anyone wondered how much women's football mattered in the Olympics then the answer was etched on every face.
It was the same story on Thursday afternoon, as this time Canada struck a late winner to defeat the unfortunate French in the bronze medal match. The French players could not contain their emotions and wept openly on the pitch at Coventry.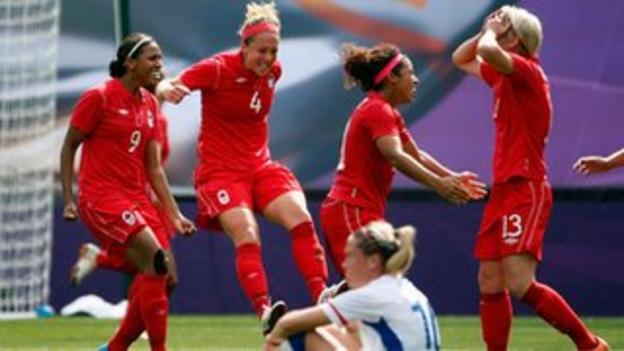 Contrast that with the celebrations of the USA, parading around Wembley wrapped in the Stars and Stripes and wearing T-shirts proclaiming 'Greatness has been found' after defeating Japan 2-1 to strike gold and avenge their defeat in last year's World Cup final.
Without doubt, the women's Olympic football tournament was a gripping rollercoaster of emotion and excitement. I have not met anyone who does not think it was a real asset to the London Olympics.
"There have been a lot of stand-out performances and goals," said BBC summariser Lucy Ward. "The women's game is constantly improving and the standard gets better at every major tournament."
Sinclair's hat-trick is an excellent case in point, with a dribble and deft finish followed by two clinical headers. The flowing move finished off by Jill Scott as Great Britain defeated Cameroon in Cardiff was worthy of any football match, while the precise passing of the Japanese was so easy on the eye I could watch it forever.
"There were some really fantastic matches and it has been a great advert for the women's game," said US winger Megan Rapinoe, who scored a stunning free-kick against Canada.
The knock-out stages were particularly gripping. There was a thrilling final, a dramatic bronze medal match and two classic semi-finals as the Japanese held off a French fightback and the States stunned their North American rivals. Knockout football in major tournaments is often tense, with a fear of failure leading to games that lack ambition. This was not the case at the Games.
The matches were feisty and competitive, yet they were largely devoid of some of the gamesmanship that sometimes undermines the men's game. The players were open and approachable, just witness the Canadians patiently stopping to sign autographs not long after their semi-final defeat.
"We get a lot of positive feedback saying we don't dive, we don't swear as much as the men, we have to continue to do that and be respectful," said Great Britain winger Karen Carney.
"I have a five-year-old niece Keira so I'd hate to be a bad role model for her."
A total of 666,151 watched 71 goals scored across the 26 matches played at six different stadiums. That is an average of 25,621 per match. Thursday's final at Wembley was played in front of a crowd of 80,203, comfortably beating the previous record of 76,489 for an Olympic women's football final set back in 1996.
No wonder a Fifa spokesman said: "It shows what a vital and robust part football plays in the Olympic Games."
Prior to the tournament, the record crowd for a women's match on these shores in the modern era was 29,092 for the opening fixture of Euro 2005 between England and Finland at the City of Manchester Stadium.
BBC commentator Steve Wilson covered that tournament and recalls that many of the other games were very poorly attended.
"I remember watching France versus Italy in front of 957 at Deepdale, Preston, and I was slightly worried about attendances coming into this tournament," said Wilson. "But they have been amazing."
The argument that football should not be in the Olympics because it is not the pinnacle of the sport does not really wash with the women's game. The men's tournament is hotly contested by many nations - Brazil, Uruguay and Spain all took it very seriously as they work towards the World Cup in 2014.
But while that is effectively an Under-23 competition, the women's tournament is open age. It is contested by the world's best players - Sinclair, USA forward Abby Wambach, Japan's Homare Sawa and Brazil's Marta were all here. Germany - one of the best teams in the world - did not make it through qualifying; neither did Norway or Finland.
"If I was a player and somebody said would you rather win Olympic gold or the World Cup, it would be equal," added former England international Ward. "You have the best at this tournament."
Great Britain's 1-0 defeat of Brazil in front of 70,584 at Wembley was the unquestionable highlight of the tournament from a domestic perspective. It was a magical night at the famous stadium in London.
OK, many people came along to watch not so much because they like women's football, but because tickets remained on sale when other sports had been sold out and it gave them the chances to be part of the Olympics.
But if many arrived curious and uncertain, I am sure that plenty went home converted, won over by the skill and entertainment served up. It might yet prove to be a watershed moment for the women's game in this country.
"It has always been an easy thing to make a joke about women's football," said Ward. "Maybe now people will say 'hold on a minute, did you not see the games at the Olympics?'"