Jamaica's Usain Bolt & co at Olympics - what the world thinks
Last updated on .From the section Olympics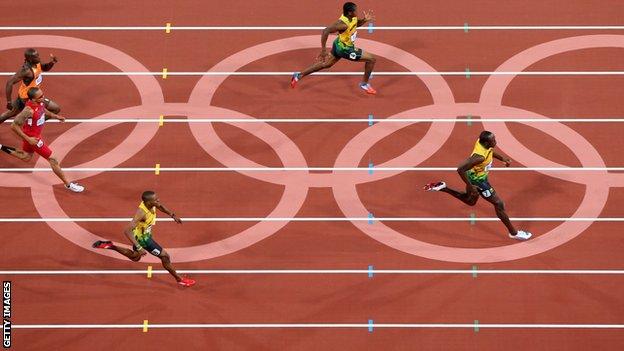 For a country with a population of 2.7 million people, the green, gold and black of Jamaica's flag has received a hefty amount of airtime during the 2012 Olympics.
The Caribbean island has produced the two fastest men on the planet, Usain Bolt and Yohan Blake, and twice the Olympic Stadium has witnessed them dominate their field to finish first and second respectively in the 100m and 200m.
For Bolt, the first man to ever retain an Olympic 100m and 200m title, it strengthens his position as a legend of the sport.
But, he says, training partner and friend Blake had a major role to play.
Bolt on Blake
"If he wasn't there, I would be a little bit off, he's really helped. Over the years, Yohan has made me a better athlete. He's really pushed me and kept me on my toes.
"Yohan said in an interview that in training he tries to be in front of me. That's true. Everything we do, he always tries to lead it. I let him do it because that's who he is.
"He gave me a wake-up call at the Jamaican trials. It really opened my eyes. I sat down, then went to my coach and said: 'Do I need to be worried?' He said: 'No'.
"Yohan is running 19.4 in the 200m already, his personal-best is 19.2. He's running 9.7 in the 100m, so in the next four years he's going to be firing. I think I'd like to get out early before he starts running too fast."
Blake on Bolt
"Even when I'm in front, he wants to be right beside me. We're always head to head going down towards the finishing line. He has really pushed me.
"Off the track, he'll always say: 'You're not doing this for the people or the fans, you're doing this for yourself, so you must know what you want.'"
"He's been great encouragement to all of us. Seeing what he's done tonight, it's his moment and he must enjoy it."
Jamaica on Bolt and Blake
With such success, both men are deeply revered, not just in their homeland of Jamaica but in the wider Caribbean region.
Michael Bascombe, journalist, International Media Content in Jamaica:
"Usain Bolt has brought a new life to track and field when many thought it was a dying sport. The exploits of these young men have revived track and field.
"When they're running, they don't just represent Jamaica, they represent the entire Caribbean region. That's what so special about these gentlemen.
"I think this Olympic Games, London in particular, brought something special because Jamaica is celebrating its 50th anniversary of independence.
"What better platform on which to expose Jamaica. What they've done here will probably unite Jamaicans more than before."
Vinod Narwani, senior reporter and producer, Caribbean Communications Network TV6 in Trinidad:
"They are phenomenal. They mean a lot to the Caribbean. Bolt has proven he is a force to be reckoned with. He blew away the whole pack.
"Regardless of what nation athletics fans are from, they want to see Usain Bolt. Based on ticket prices, even though he is Jamaican, the world loves Usain Bolt.
"Such is the infallible presence of Bolt, when Trinidadian runner Richard Thompson came second to Bolt in the 2008 Olympic 100m final, he said it felt like a victory.
"Thompson was pleased as punch. It was as though he won the gold medal, he was so pleased for himself."
Anthony Foster, founder, trackalerts.com in Jamaica:
"I watched Usain run 19.93 at the Carifta (Caribbean Free Trade Association) Games in Bermuda, in 2004. That is a junior record that still stands today.
"I definitely wasn't surprised by him retaining his 100m and 200m title - this is a guy who ran 9.58 and 19.19 in 2009.
"In Jamaica, everyone knows about Usain Bolt. But that's nothing. Today I was on the train in London and two little boys were playing with toys and saying which one was Usain Bolt.
"I believed he was already a legend before these Olympics Games."
What the BBC experts said:
Michael Johnson, four-time Olympic champion: "Blake found after the start that Bolt was already gone. He displayed some speed endurance that I haven't seen before. He looked at the clock, realised that he was not on world record pace and decided to celebrate a little bit early!"
Daley Thompson, two-time Olympic champion: "Usain Bolt always said he wanted to be a legend, and in order to do that he had to do the double double. I guess the legend continues.
"He's still quite easily the best and he could be for as long as he wants. I suspect he is going to lack a little bit of motivation, because he likes doing the other things.
"In the last few years our sport would have sunk without a trace without him. We all owe him a debt of gratitude because he's bringing the people in."
Steve Cram, BBC athletics commentator and former Olympic silver medallist: "Bolt is unique and he has no equal. He is just incomparable in the world of sprinting. He is the only man ever to have defended the Olympic 200m title and that is just the latest statistic in what is becoming a long, long list of superlative appearances from Usain Bolt."
Headlines from around the world:
Independent (UK): 'Lightning Bolt strikes twice … twice'
Daily Telegraph (UK): 'The Greatest'
Jamaica Observer: 'Lightning Bolt strikes again. Ja' 1-2-3 in 200m'
The Jamaica Gleaner: 'I am the Greatest'
USA Today: 'Usain Bolt has 'lost all respect' for Carl Lewis'
Washington Post: 'Bolt completes historic sweep'
The Australian: 'King of the Track'
Do not forget Jamaica's female sprinters
For Bolt and Blake in the men's, you can take Shelly-Ann Fraser-Pryce and Veronica Campbell-Brown in the women's sprint events.
In London, Fraser-Pryce became the first non-American woman in history to win gold in the 100m events at consecutive Olympics, and then took silver in the 200m.
Campbell-Brown may have only taken bronze in the 100m and finished outside the medals in the 200m, but she already had three gold medals to her name from Athens and Beijing.
Paul Dickenson, BBC Athletics commentator and two-time Olympic hammer thrower: "It is not all about Usain Bolt in Jamaica, their women had a clean sweep of medals in the 100m in Beijing four years ago and they have got two in London."