Olympics 2012: Team GB athletes at London Games Day 14
Last updated on .From the section Olympics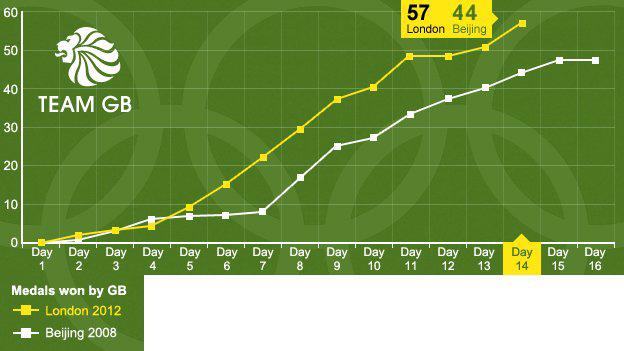 A sport-by-sport round-up of how every Team GB athlete performs on Day 14 of the 2012 Olympic Games in London.
Britain finished Day 14 with a total of 57 medals, compared with 44 at the same stage at Beijing in 2008, with 25 golds keeping them third in the medal table.
ATHLETICS
Shana Cox, Lee McConnell, Eilidh Weir and Christine Ohuruogu finish third with a time of 3:25.05 in their women's 4x400m heat to qualify for Saturday's final.
Christian Malcolm, Dwain Chambers, Danny Talbot and Adam Gemili are disqualified from the men's 4x100m heats after a baton handover between Talbot and Gemili is seen to be outside the designated area.
Conrad Williams, Jack Green, Dai Greene and Martyn Rooney finish fourth in the final of the men's 4x400m with a time of 2:59.53.
Steven Lewis finishes joint fifth in the final of the men's pole vault with a height of 5.75m in his second clearance.
Jo Pavey and Julia Bleasdale finish seventh and eighth respectively in the final of the women's 5,000m with times of 15:12.72 and 15:14.55.
Lisa Dobriskey and Laura Weightman finish 10th and 11th respectively in the final of the women's 1500m with times of 4:13.02 and 4:15.60.
Sophie Hitchon finishes 12th in the women's hammer final, with a best distance of 69.33m in the second round.
BOXING
Luke Campbell is through to the final of the men's bantamweight (56kg) final after a 20-11 win over Satoshi Shimizu of Japan in the semi-final.
Fred Evans will compete in the men's welterweight (69kg) final following a 11-10 win over Ukraine's Taras Shelestyuk in his semi-final.
Anthony Joshua is through to the men's super-heavyweight (+91kg) final after 13-11 win over Kazakhstan's Ivan Dychko in the semi-final.
Anthony Ogogo loses 16-9 to Brazilian Esquiva Falcao Florentino in the men's middleweight (75kg) semi-finals. Ogogo does take home a bronze medal though.
CANOE SPRINT
Liam Heath and Jon Schofield are through to the final of the men's kayak (K2) 200m after a second-placed finish at Eton Dorney with a time of 32.940 seconds. Earlier they secured a semi-final spot by finishing second in their heat in 33.364.
Richard Jefferies misses out on a place in the final, finishing sixth in his canoe (C1) semi-final with a time of 43.213 seconds. Earlier, he qualified comfortably for his semi-final in third with a time of 42.516.
Ed McKeever is through to Saturday's final after winning his kayak single (K1) 200m semi-final in 35.619 seconds. Earlier, he won his heat to qualify for the semis with an Olympic best time of 35.087.
Jess Walker finishes fourth in heat two of the women's K1 kayak 200m to qualify for the semi-finals in 41.734 seconds.
CYCLING - BMX
Shanaze Reade finished a disappointing sixth in the women's BMX final after a poor start to her race with a time of 39.247 seconds. She had earlier finished as the third-ranked qualifier in the semi-finals.
Liam Phillips finished last in the men's BMX final race with a time of 2:11.918 after falling just before turn four. Having led on the first turn, he had fallen back to fifth in the field before crashing.
DIVING
Tom Daley qualifies in 15th for the men's 10m platform with a score of 448.45. Pete Waterfield goes out though, finishing 23rd with 412.45.
GYMNASTICS - RHYTHMIC
Frankie Jones finishes last in the individual all-around qualification with a score of 94.625.
Team GB's team of Georgina Cassar, Jade Faulkner, Francesca Fox, Lynne Hutchison, Louisa Pouli and Rachel Smith finish last in the qualifying rotation in the team all-around rhythmic gymnastics with a score of 48.000.
HOCKEY
Great Britain's women have won a bronze medal thanks to a 3-1 victory over New Zealand in the bronze medal match, with Alex Danson, Crista Cullen and Sarah Thomas on target.
SAILING
Hannah Mills and Saskia Clark have to settle for a silver medal in the women's 470 after finishing well behind New Zealand in the medal race.
Luke Patience and Stuart Bithell clinch silver after finishing fourth in the men's 470 medal race and second overall in the final standings.
SWIMMING
Daniel Foggfinishes fifth in the men's 10km open water marathon with a time of 1:50:37.3.
TAEKWONDO
Lutalo Muhammad wins bronze after beating Arman Yeremyan of Armenia 9-3 in the -80kg repechage. He lost 7-3 to Nicolas Garcia Hemme of Spain in the quarter-final, having beaten Farkhod Negmatov of Tajikstan 7-1 in the preliminary round.
Sarah Stevenson loses 5-1 to American Paige McPherson in the preliminary round of the -67kg class.