Aaron Cook cannot watch Lutalo Muhammad at London 2012
Last updated on .From the section Olympics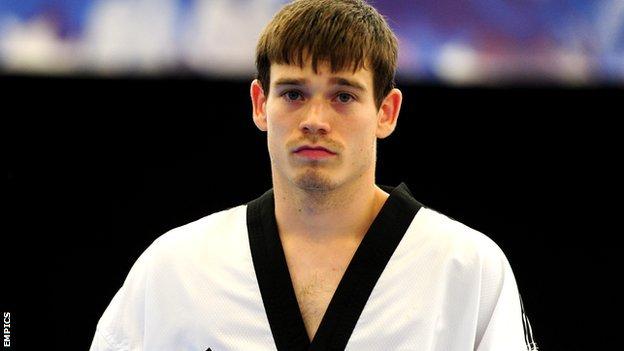 Snubbed taekwondo star Aaron Cook says he "cannot bear" to watch the man who took his place at London 2012.
Lutalo Muhammad started his Olympic campaign in the -80kg with a 7-1 first round win over Farkhod Negmatov.
Muhammad's selection ahead of world number one Cook has been investigated by the World Taekwondo Federation.
"I cannot bear to watch Lutalo Muhammad, and I will be in tears if I do, as I will think 'that should have been me'," Cook told BBC Radio 5 live.
"I have nothing against him, it's the selectors. If he wins, I will shake his hand.
"I will never be able to draw a line under this. I can never move on from what the selectors have done to me.
"I can guarantee whoever wins gold, I will have beaten this year. I am extremely bitter about it."
Despite the furore regarding his non-selection, Cook still wants to compete at the Olympics in Rio in 2016.
But he insists he will not rejoin the GB academy programme, which he left in June last year, to boost his chances.
He added: "I am really looking forward to Rio 2016 and all my training will be based around that. Hopefully, the four years will fly by.
"There is nothing more I want to do than win a gold medal for my country.
"It does not mean I will re-join the Great Britain academy though.
"I have showed I am doing the right thing for me, and I need to keep doing that.
"I still feel the same; I should have been there fighting. I was in pieces this morning thinking I should have been competing today."