London 2012: The science behind building an Olympian
Last updated on .From the section World Olympic Dreams
The BBC recently secured access to the English Institute of Sport's (EIS) high performance centre at Bisham Abbey where a number of sports scientists work with Great Britain's Olympic hopefuls. The EIS's Regional Director (South), Richard Parker, explains how its sports scientists help to build Olympians.
The creation of a high performance system to support athletes has transformed the fortunes of Britain's Olympians in recent years.
Publicly funded through UK Sport, the impact of the system can be seen in Great Britain's Olympic medal success, which has risen from one gold at Atlanta in 1996 to the phenomenal success in 2012.
Central to this transformation has been an increase in the volume and sophistication of the sport science and sport medicine support provided to GB's Olympic athletes.
Much of this is provided by my colleagues at the EIS who work with 34 Olympic and Paralympic sports and who worked with 65 of the 70 (93%) athletes who won a medal in Beijing.
Based at 15 High Performance Centres across the country, our 250 practitioners deliver more than 4,000 hours of support to over 1,500 athletes every week. They are the team behind many of GB's top Olympians.
Robust athletes
The process of building an Olympian begins when an athlete is identified as a candidate by their sport's national governing body for a world-class performance programme.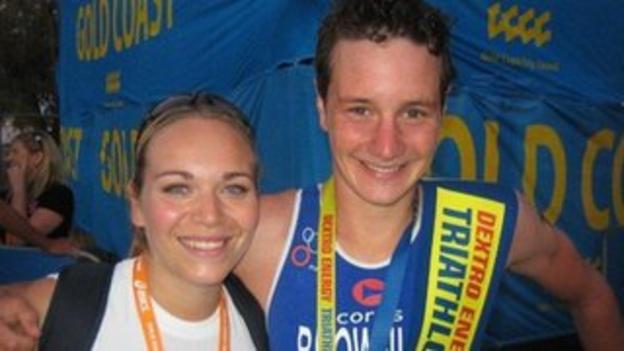 The first role of sport science is to help the coaches to build an athlete who is physically robust enough to withstand the rigours of top level training and competition.
We do this by putting together a team including a doctor, physiotherapist and strength and conditioning coach to assess the athlete over a period of time and determine whether their body is durable enough to cope with the intensity of training.
Where any potential weaknesses emerge in the screening process, our practitioners develop a programme of activity that focuses on these areas and aims to ensure they do not inhibit the ongoing development of the athlete.
Delivering peak performance
Our practitioners put together an individual programme to optimise athletes' training and bring them to peak fitness for major competitions.
The programme strengthens parts of the body that are critical to improved performance and includes ongoing testing to measure the impact of the training. At the same time, our physiotherapists complement this with preventative work that aims to reduce the prevalence of injuries.
Sadly, injuries are part of top-level sport and when they occur our practitioners put the athletes back together with expert medical care and intensive, multi-disciplinary rehabilitation programmes.
Underpinning these programmes are nutritionists who work with the athletes to develop individualised refuelling strategies that enable athletes to optimise their performance in training and competition.
Monitoring
Athletes training at such a high volume and intensity need physiological monitoring.
The EIS's lead physiologist for the Southern region, Sarah Hardman, describes this as the equivalent of a Formula 1 mechanic looking under the bonnet of the car and Sarah and her colleagues perform an array of tests to assess how an athlete's 'engine' is running.
They test the blood's lactate levels produced in training and check that sleep and recovery strategies are working effectively.
Physiologists also run sessions in the altitude chamber to assess how athletes respond to different environmental conditions.
Evidence that they can perform in a variety of different climatic conditions can significantly improve self-belief in those athletes due to compete at international events.
Mental preparation
Psychologists play a pivotal role in helping coaches to mentally prepare athletes through character assessments, pressure training and one-to-one work.
London 2012 has thrown up some unique issues for Team GB and these have been addressed by the First Games Home Games (FGHG) programme developed in collaboration with the British Olympic Association (BOA).
The programme includes a range of resources to help athletes manage the intense pressures of competing at home and, for over half of Team GB, their first Olympic Games.
One per cent gains
The FGHG programme is one example of the way sports scientists help athletes and coaches find those one per cent gains that can be the difference between gold and silver.
Our bio-mechanists use super slow motion cameras to help athletes identify the most efficient movements or identify faults that may have crept into their action. Likewise, our performance analysts have thousands of hours of film of their opponents to aid the development of strategies and gameplans.
The final part of building an Olympian is to recognise that they are people with a life away from sport. Through our performance lifestyle advisors the EIS help with living arrangements, financial advice and careers support.
At Bisham, performance lifestyle advisor Emma Mitchell has secured part-time work placements with a number of companies which have created an additional source of income and a potential career path for athletes who retire from sport.
The underlying purpose of our performance lifestyle service is to free the athlete of distractions and enable them to focus on training and competing and not be concerned by matters off-the-field.
Whilst the growth of sport science and medicine has improved performance, athletes must believe in the advice they receive and, most importantly, have the determination to put in the hours of hard training that are required to be an Olympian.
A glance at the medal tables from this Olympic Games backs this up and gives us every reason to be confident that the Olympians we have helped to build over the last four years will deliver yet more success come Rio in 2016.