Olympics canoeing: Ed McKeever through to K1 200m final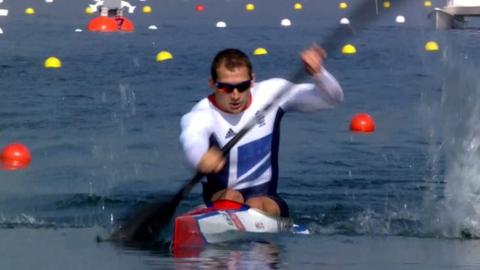 Britain's Ed McKeever qualified for the men's Kayak (K1) 200m final on Saturday after finishing with the fastest time in his semi-final.
The former world champion clocked 35.619 seconds with only Canada's Mark de Jonge and Spain's Saul Craviotto Rivero quicker than him.
In the women's kayak sprint, Jessica Walker also reached the final with a time of 41.734 seconds.
While British pair Liam Heath and Jon Schofield also went through.
The world silver medallists finished the men's kayak sprint double in 32.940 to qualify for Saturday's final.
"We have had two good, solid races and we are looking forward to stepping it up tomorrow," Schofield said.
"The Russians are one of the crews to beat and they had a solid race today, but we have more in the tank and we will be looking to get out a bit faster."
In McKeever's race, Poland's world champion Piotr Siemionowski could only reach the B final.
While in the men's canoe 200m, Richard Jeffries could not reach the last stage.