Olympic rhythmic gymnastics: Evgeniya Kanaeva tops qualifying
Last updated on .From the section Olympics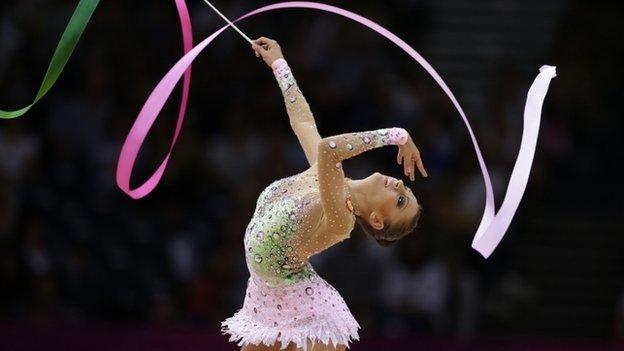 Russia dominated qualifying in the rhythmic gymnastics individual all-around event with a top-two finish.
Reigning champion Evgeniya Kanaeva led the way ahead of Daria Dmitrieva after the final two rotations, clubs and ribbon.
Dmitrieva had led after Thursday's ball and hoop routines but finished on 114.525 behind Kanaeva on 116.000.
Great Britain's Francesca Jones missed out on a place in the final after finishing 24th on 94.625.
The six-time British champion produced a clean routine with the ribbon to follow on from her overnight 21st place but struggled with the clubs, losing one of the clubs to leave her last in the rankings.
"I'm really sorry I just couldn't do it justice," she said afterwards.
"I'm very disappointed. It's such a mistake. You can't control it. There was nothing I could do to control it.
After a strong performance on Thursday, Dmitrieva also struggled during her clubs routine.
However, despite the mistake, she eased into Saturday's final due to the high difficulty tariff of her routines and will face nine rivals including Kanaeva, Azerbaijan's Aliya Garayeva (who qualified in third) and Bulgaria's Silviya Miteva.
Russia also qualified for Sunday's group final in first place after holding off a challenge from Italy.
Watch the qualifying session on our interactive video player