Daniel Fogg reveals Great Britain swimming funding concerns
By Mike Henson
BBC Sport at Hyde Park
Last updated on .From the section Olympics
Great Britain's Daniel Fogg is concerned about the effects of potential cuts in funding to swimming after London 2012.
"We have been under a bit of stick for the medals we have got," admitted Fogg.
"You've just to give us a bit of time; the medals will come."
Michael Jamieson's silver in the 200m breaststroke and Rebecca Adlington's third-place finishes in her 400m and 800m freestyle title defences are the only times British swimmers have been on the London 2012 podium.
The sport was set a target of winning between five and seven medals at the Games, but the likes of Keri-Anne Payne,Fran Halsall,Gemma Spofforth and Ellen Gandy have not been amongst the top three in the women's events and there has been a lack of strong contenders amongst the men for some time.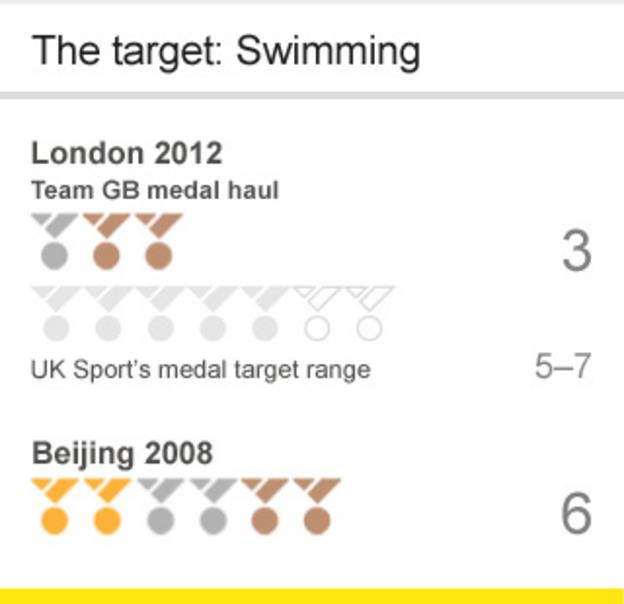 Swimming is due to receive a total of £25,144,600 between 2009 and 2013 from UK Sport which allocates public funds to high-performance athletes.
Only rowing, cycling and athletics, which have delivered a total of 26 medals in London between them, receive more.
But Fogg believes that despite several less well-funded sports, such as judo, gymnastics and equestrian, exceeding their own targets it would be wrong to switch money away from swimming.
"If funding is cut it's going to be extremely hard for us," Fogg added.
"All we have to do is look at the performances and the amount of finalists we have had compared to the last four years and it's improving.
"They've just got to give us all the support that they can to turn those finalists into medals."
Fogg faces a decision over his own future.
Having finished eighth in the final of the Olympic 1500m freestyle after setting a new English record in the event at the British trials, the 24-year-old may need to focus his efforts on either the pool or the open water .
"I'm going to let this sink in for the next few days to a week and then analyse it and plan," he said.
"I made the 1500m final and I'm very happy with that. I feel I've got a lot more to come in the 1500m.
"I have swum around ten to fifteen 10km races. Compared to some of these other guys who are in their mid-thirties and have been doing it for 20 years I am still really young for this event.
"It's going to be a matter of deciding if I want to do both or end one and concentrate on the other."