Olympics sailing: Australia rule waves over Great Britain

By Rob Hodgetts
BBC Sport in Weymouth
Last updated on .From the section Olympics
Britain ruled the waves for three Games but on the home waters of Weymouth and Portland it was Australia who plundered the gold.
GB ended with one gold and four silvers against Australia's tally of three golds - with the match-racing final against Spain still to come. Measured on first-place finishes, the Aussies came out as top nation in their best ever Games.
The British haul, led by Ben Ainslie's fourth gold medal, was one more than the goal of four medals set by team chiefs. Against that basis, they overachieved.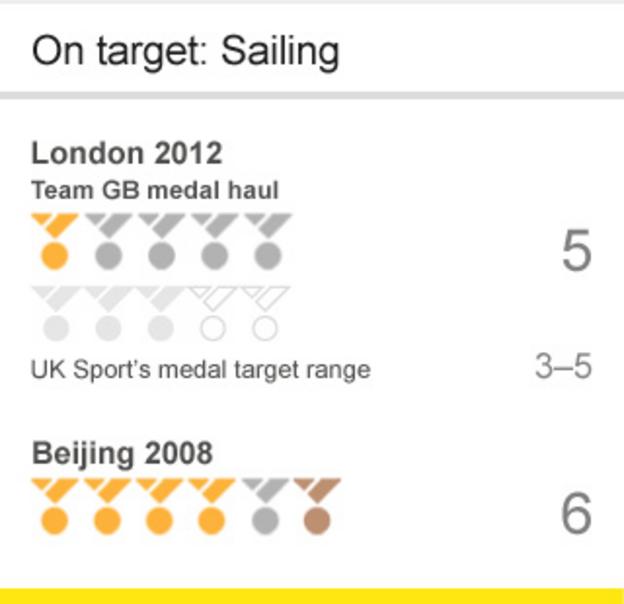 Coming into the Games, Olympic sailing manager Stephen Park said GB had its strongest team ever and were competitive - with realistic medal chances - in all 10 classes.
Park, who has been in charge since 2001, talks of a conversion rate of 50%, which would therefore equate to five medals. So either the target was set at the lower end of the scale, they did better than forecast, or they were bang on, depending on how you look at it.
In Beijing, Britain came away with four golds, a silver and a bronze from 11 events. It was always going to be a tough task to emulate that, but Park admits losing the top nation tag "hurts".
"We have to be happy. We've won medals across half the events we've taken part in," said Park.
"We hoped if everything went well we might be able to deliver more than four and we managed to deliver five.
"It does, of course, hurt. You want to always be the top. We spend our life working on very small percentages so we can be the best so by any measure when you're not the best then that hurts."
Two-time Olympic champion and BBC sailing presenter Shirley Robertson said things just did not fall into place for the British team.
"In many ways it was slightly disappointing," said Robertson. "Having been the top nation for such a long time, there was the expectation that would continue.
"If Iain Percy had won his gold medal [in the Star] and one of the 470 teams converted it would be a different story."
Ainslie's fourth gold and fifth medal in all to become the most decorated Olympic sailor was virtually written in stone beforehand and now, with the benefit of hindsight, seems to have been inevitable.
But the bit in between - trailing Dane Jonas-Hogh Christensen after the first six races - was anything but certain. The fierce fightback demonstrated Ainslie's pure grit and undoubted greatness. But it was a close-run thing, and would have been scuppered if Dutchman Pieter-Jan Postma had passed Kiwi sailor Dan Slater on the final leg to steal gold.
Percy and team-mate Andrew Simpson were on top form throughout and led by eight points going into the medal race. But while the waves worked in their favour as they stole gold in the final race in Beijing, so they worked against them in Weymouth as Sweden snuck through from bronze.
Nick Dempsey's windsurfing silver was as good as was realistically possible, given the domination of the class by flying Dutchman Dorian van Rijsselberge.
And the men's and women's 470 crews - Luke Patience and Stuart Bithell and Hannah Mills and Saskia Clark - both went into their medal races with silver secured and very real chances of gold. But both teams came up against very tough opposition from Australia and New Zealand to be denied.
Elsewhere, defending Laser champion Paul Goodison would have been a serious contender for a medal of some sort but a bad back hampered his campaign. The 49ers of Stevie Morrison and Ben Rhodes had a chance of bronze going into their medal race. And the Elliott match-racing crew of Lucy Macgregor was, according to Park, on the wrong end of a photo finish in the race that would have given them a 3-1 passage to the semi-finals.
"Across the team we've probably got some fairly mixed emotions," said Park. "But there are very fine margins. It is a far more competitive environment than it has ever been."
British Olympic sport benefited hugely from the Lottery Funding that was introduced in 1997. Sailing, armed with more money to train, compete, hire the right coaching staff and equip themselves at the highest level, progressed from Ainslie's silver in Atlanta in 1996, to three golds and two silvers in Sydney in 2000 and two golds, a silver and two bronzes in Athens.
But other nations have bridged the divide. Australia, whose previous best was two golds, a silver and a bronze in Sydney, revamped their programme in 2005, not necessarily with more money but with a better structure.
"It is part timing and partly the way they have focused resources on a few people with extraordinary talent," said Robertson. "Nathan Outteridge, for example, was a class apart in that 49er fleet."
The Netherlands, who were third on the medal table with a gold, silver and bronze, enjoyed their best Games since World War II as the result of an initiative called "Project 2012", a similar push to fast-track talent, which was also launched in 2005.
The USA, however, failed to win a sailing medal for the first time since 1936. US Olympic sailing chief Dean Brenner blamed "performance programme" issues.
For Britain, the last of the so-called "Golden Generation" is at an end with Ainslie, Percy and Simpson at least unlikely to be in Rio in four years' time. But Weymouth has shown the production line is already onto the next model. Youngsters like Patience, Bithell, Mills, Clark and Alison Young, who was fifth in the Laser Radial in her first Games, show the future is bright. Add to that Finn sailor Giles Scott, the likely successor to Ainslie who was unlucky to miss out this time, and you have a promising core.
For Rio 2016, the classes will look different, too. Out goes men's and women's windsurfing, the Star class and the women's match-racing. In comes men's and women's kiteboarding, a two-person women's skiff (49er FX) and a two-person mixed multihull event (Nacra 17).
Expect some old faces, and plenty of new ones. In kiteboarding, still the subject of controversy and a windsurfing protest to the International Sailing Federation, Britain already has a four-time world champion in Exmouth's Steph Bridge.
So despite beating their medal target, Britain's sea power was overthrown on the waters of Weymouth. The challenge will be to reassemble the fleet for Rio.