Welsh boxer Fred Evans keeping Olympic gold medal in focus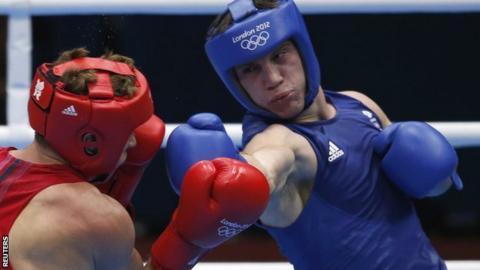 Welterweight Fred Evans says he will not be satisfied with silver after winning through to the Olympic final.
The Welshman, 21, beat world number one Taras Shelestyuk 11-10 in the semi-finals and will now contest gold with Serik Sapiyev of Kazakhstan on Sunday.
"These are the biggest days of my life now. I've just got to keep sharp, keep focused now and hopefully come away with the gold.
"Since I've been on the GB squad this is what it's all building up to."
Evans leapt into a 4-1 lead after the first round at the ExCel Arena and that proved crucial.
The Cardiff fighter matched Shelestyuk blow for blow in the second before weathering a late storm from the the Ukrainian in the final three minutes to win the battle of the southpaws.
"I've beaten the world champion, number one in the world at the weight... he was the big name to watch out for, I've got him out the way now," Evans added.
"I went in there, stuck to the game plan and it was working perfectly. I knew he was a come-forward fighter, very strong, so... I had to start sharp, try and get up the points and then I knew he was going to come for me. That played into my hands.
"I knew if I made one mistake here I was out early and I'd be regretting it for the rest of my life.
"When you first walk into the arena and the fans all go mental it just gives you that bit of a lift... I don't think it'll kick in until I've got that medal around my neck, it's unbelievable."
Whatever colour medal Evans emerges with on Sunday, his exploits will trump Ralph Evans' bronze won at the 1972 Munich Games - Wales' only Olympic boxing medal before this year.
Standing between Evans and gold is Serik Sapiyev of Kazakhstan, who beat Russia's Andrey Zamkovoy 18-12 in their semi.
"I've sparred with the Kazakhstan boxer, he's a top kid, I know him well," added Evans.