Lutalo Muhammad coped 'under incredible pressure' at Olympics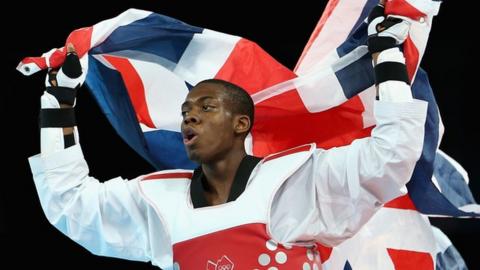 GB Taekwondo boss Gary Hall has praised the way Lutalo Muhammad coped with his controversial selection for London 2012 to win bronze.
Muhammad was chosen ahead of world number one Aaron Cook but became the first British man to win a taekwondo medal at the Olympics,
"Today he has shown what a world-class athlete he is. That's why the selectors picked him," Hall told BBC Sport.
"He's done a fantastic job under incredible pressure."
Hall added: "I know he would have loved gold, but to win a bronze medal in his first Games at 21 years of age against the backdrop of the pressure that has been on his shoulders is a stunning performance."
The London-born fighter admitted it had been a "tough ordeal" at times over the past few months while the debate about his selection was played out in public.
Muhammad had received hate mail in the build-up to the Games, but, after beating Armenia's Arman Yeremyan 9-3 to take bronze, he said: "I'm happy I had the mental toughness," said Muhammad
"I don't really see it as proving a point, but I'm very happy I was able to win a medal for Team GB and if that achieves anything else then that is a bonus."
Muhammad's display followed while Martin Stamper narrowly missed out on a bronze medal.
Although there was disappointment for Hall was delighted with the team's achievements in London.
"Fifty per cent got medals. That's a great result," he said. "Jade is just 19, Lutalo is only 21, so the future is very bright heading off towards Rio, where we intend to win more medals and of an even better colour."