Olympics boxing: Luke Campbell thanks his team after gold win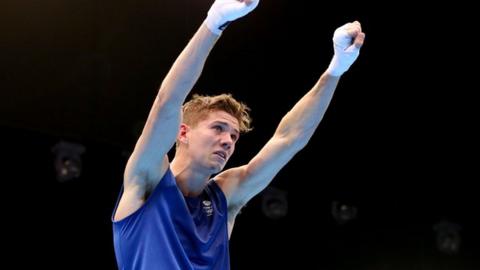 Luke Campbell thanked his trainers and team-mates after winning Britain's second boxing gold of London 2012.
Campbell, 24, beat Ireland's John Joe Nevin to win bantamweight gold.
Campbell said that performance director Rob McCracken and his team of coaches had helped to turn his career around after a "misery year" in 2009.
"That was a very low point for me," he said. "I had my best year in 2008 and the system changed, different coaches came in and I was looking to get out."
Thankfully for Campbell, he stayed and his fortunes improved.
"Rob McCracken came in, changed the system, made it enjoyable to train and I felt very confident under their wing," said the Hull fighter.
"I went to the worst place possible in my career. Then Rob took over and I had 23 unbeaten fights in a row. I just got better and better."
With Campbell and women's flyweight champion Nicola Adams already winning gold, with Anthony Ogogo adding middleweight bronze, this is Britain's most successful Olympics in the ring since 1920.
Super-heavyweight Anthony Joshua added another gold on Sunday, while welterweight Fred Evans finished with a silver.
The British tally of five medals is two more than the team won at the 2008 Games in Beijing, while Amir Khan, who won a lightweight silver in 2004, was the only boxer from these shores to qualify for the Athens Olympics.
Much of the credit must go to performance director McCracken, who has not been in the fighters' corner during the Olympics because of a ban arising from his professional affiliations.
"The atmosphere here is unbelievable, you can't help but get caught up in it," said McCracken, trainer of three-time super-middleweight world champion Carl Froch.