Nepal's first Olympian Bhupendra Silwal enjoys London 2012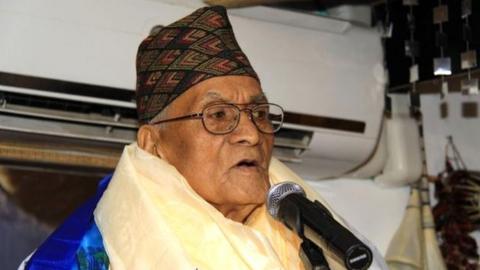 Among the hundreds of thousands of spectators at London 2012 has been a Nepali marathon runner whose first international race ended with tarmac stuck so badly to the soles of his feet that when he tried to get it off, his feet were left bloody and raw.
"While trying to remove the tarmac using a needle, the skin came off my soles and it was even bleeding," revealed Bhupendra Silwal, a member of Nepal's small team at the country's first ever Olympics in 1964.
Speaking to the BBC about his experiences at the 1958 Asian Games in Tokyo, when he was forced to run barefoot, he added: "It all came back to me when I was watching the 200m race and 100m hurdles in the Olympic stadium in Stratford."
Silwal has been attending the Olympics courtesy of an association of Nepalis living in the UK after his story first came to light following an interview with the BBC Nepali service.
And, as a result of his bloody feet in 1958 - when he still came seventh - he has been paying close attention to what the athletes at the London Olympics are wearing on their feet.
"If only I had the kind of shoes these athletes are wearing here in the London Olympics, I would have perhaps come first," he reflected.
Back in 1958 people poured water on his feet as he was running and many even took pictures just focusing on his legs.
The 77-year-old blames the Nepalese sports officials of the time for making him run in bare feet.
"We kept on thinking they would buy us the shoes, but they did not, even when it was time to be on the track," the former soldier said.
"An army general who led the Nepali team then ordered me and a fellow athlete to run with bare feet and we could not refuse."
Six years later Nepal participated in the Olympics for the first time. Once again the competition was in Tokyo, but this time Silwal got a new pair of spiked shoes to run in.
"It was a very soft and light pair of shoes," he remembers. "But not good and comfortable like the ones the athletes in London Olympics seem to be wearing."
Having seen the quality of the facilities at London 2012, and how well it has been organised, Silwal says he feels this is the golden age for athletes.
"When I saw all the arrangements made for the Games and the participants in the London Olympics, I felt this is when I should have been an athlete," he said.
His athletic life began as a shepherd during his childhood in a village in the outskirts of the Nepalese capital, Kathmandu.
"While shepherding cattle, boys from our village used to have races and I always came first," he recalled.
His speed was also noticed during his military service and led to to him being selected for the Tokyo Olympics in 1964.
Silwal's visit to London is the first time he has left Nepal since then and he admitted: "I had never imagined I would get to see the London Olympics. The opening ceremony was full of grandeur and it gave me a heavenly feeling."
Before the BBC's interview, his name had almost faded away because he had not competed in any Games after Tokyo.
"I got nothing even after working so hard for the country's name," he said.
"While I trained so hard that at times I swallowed my own blood, the government did not even take care of my basic needs.
"Having to run without shoes was just one example, we were never given a tracksuit even."
A slim-looking Silwal, who does not run anymore but instead does brisk walking, thinks Nepal's national sports body has not changed much.
"The message the London Olympics has for us is that athletes should be treated nicely," he says.
"They deserve respect and I saw that happening myself almost 55 years after I was made to run in bare feet."