Pioneering Olympian Halet Cambel, who snubbed Hitler
By Aylin Bozyap
BBC Turkish
Last updated on .From the section Olympics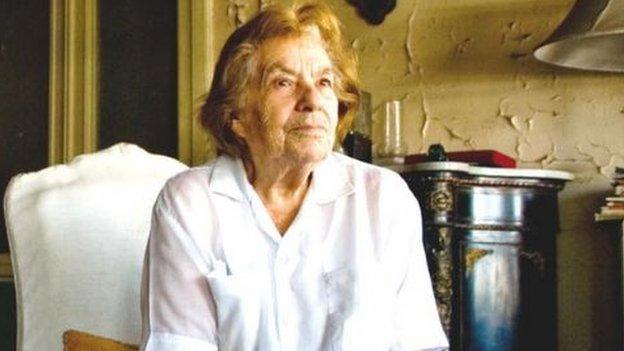 When Turkey finished first and second in the women's 1500m on Friday the two athletes were following a trail first blazed by a now 95-year-old professor who refused to meet Hitler when she competed in the 1936 Olympics.
Halet Cambel, then a 20-year-old archaeology student, was one of two female competitors sent to Berlin as the first ever Turkish women to compete in the Olympics.
The Nazis were in power and Hitler intended to use the Berlin Olympics as a tool to showcase his ideals. Cambel was repulsed by his ideas and even 76 years later she recalls clearly the day that she and her fellow female fencer, Suat Fetgeri Aseni Tarı, defied the Nazi leader.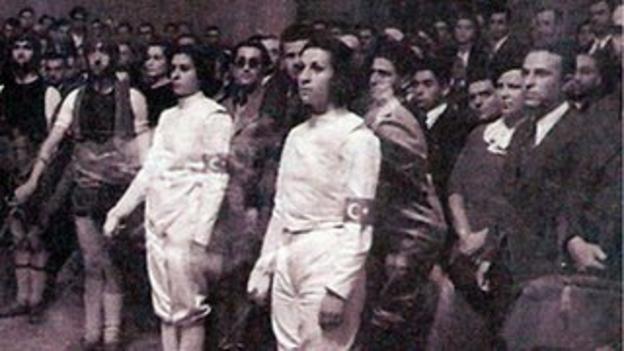 "Our assigned German official asked us to meet Hitler. We actually would not have come to Germany at all if it were down to us, as we did not approve of Hitler's regime," Cambel told the BBC.
"We said that we would never have come to Berlin if our government had not told us to do so. When the official asked us to go up and introduce ourselves to Hitler, we firmly rejected her offer."
Both women were unsuccessful in the individual foil fencing competition, but they will always be remembered as pathfinders for generations of young sportswomen in their country.
The Turkish team as a whole returned home from Berlin with one gold and one bronze but the Games were a chance for the then 13-year-old republic, built on the ashes of the Ottoman Empire, to introduce itself to the rest of the world with a new image - one personified by Cambel.
She was born in the middle of World War I in Berlin to a family who had close connections with the founder of Turkey, Ataturk, who was to be a major factor in Turkish women becoming active participants in sport.
"Ataturk did not treat women differently because of their gender - quite the opposite, he opened the path for them and encouraged them to be successful under the same conditions as men," she said.
Cambel returned to Istanbul in 1924 and subsequently studied archaeology, later devoting her working life to the subject.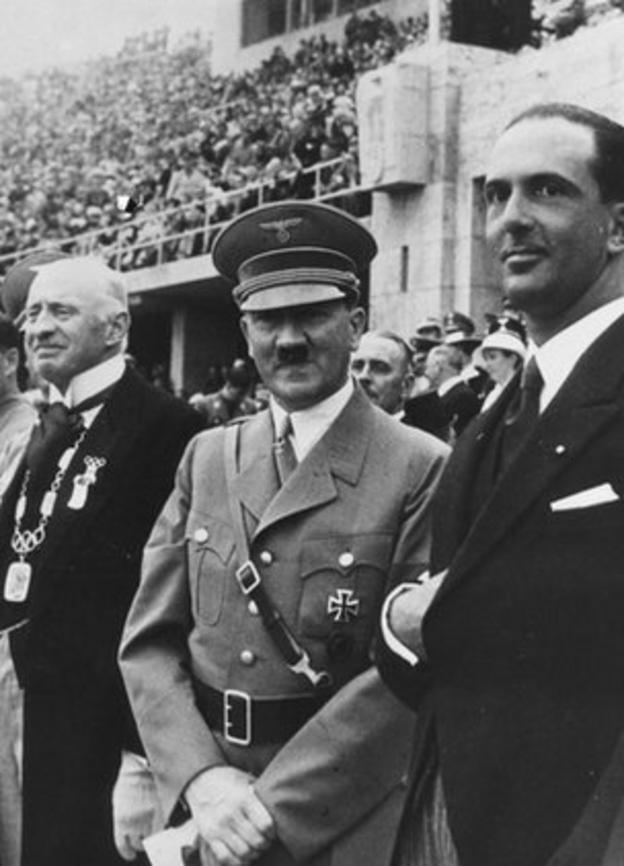 In the 1940s, with the German archaeologist Helmuth Bossert, she played a prominent role in excavating the antique Hittite settlement of Karatepe, deciphering Hittite hieroglyphics.
A vocal defender of Turkey's cultural heritage, she was also very active in social issues.
Still living in her family house by the Bosphorus in Istanbul, Cambel is now partially deaf, but her memories are still vivid - memories that will soon only be available in history books.
Competitors at the Olympics these days get the chance to enter a world in which years of training and discipline open the door to fame and fortune.
But Cambel does not recall being feted on the team's return to Turkey in 1936; there were no banners or flags, and she went back to France to continue her education.
For her, being able to compete was a reward in itself.
"I was very weak during the war [World War I] - they always looked at me as if my days were numbered," she remembered.
"They would dress me up in layers of jumpers and woolly socks. As I was not happy with this, without my family knowing, I removed these heavy clothes at school and decided to increase my strength. And I also began to exercise.
"The German books I read contained stories about knights. I was very impressed by them, this is why I took up fencing.
"There were other activities like folk dancing and other dances at school but I chose fencing. My trainer was a white Russian, Mr Nadolsky."
In 2012 Turkey entered the London Olympics with 66 female athletes. For the very first time, more than half of the team were women, and Cambel was pleased to see such an increase.
Soon after the interview, European champion Asli Cakir Alptekin became the Olympic 1500m champion, winning the first gold for Turkey on the track. Another Turk, Gamze Bulut, won the silver medal.
Today it takes years of dedication to get to the Olympics and long-term training schedules are the norm, but things were different in Cambel's day, and even the decision to go to the Games was taken at the last minute.
"We did not prepare. Everybody would train in their own spare time," she said.
"They took us to a training camp, but our trainer Nadolsky, who had a very flexible style, was not allowed to come with us. They gave us a Hungarian trainer in Pest [in Budapest]. Since this trainer's techniques were very harsh, we lost our own techniques. And we did not acquire new ones either."
It has been a remarkable life, one in which she has been both an Olympic athlete and distinguished archaeologist.
When asked what the secret to her success and longevity is, her answer is simple: "Working, working, working."