Did Great Britain's Olympic hockey teams hit the target?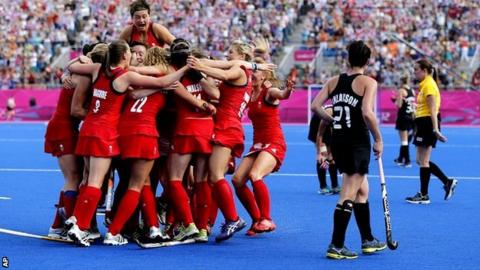 Great Britain finished the London 2012 hockey tournament with one bronze medal - but does that represent a good return for the sport?
Both teams were ranked fourth going into the tournament, and the UK Sport target of one to two medals from the Games was achieved.
Fourth is where the men finished after a 3-1 loss to Australia in the bronze medal match. They had suffered a in the semi-finals.
Britain's women had high hopes of gold but, after winning their first three games, ran out of steam and scraped into the last four on the back of two defeats.
They then found world champions Argentina too strong, but and win a first women's hockey medal for Britain since the bronze of 1992.
Here, BBC Sport analysts Sean Kerly (the 1988 Olympic champion) and Mel Clewlow (double GB Olympian) reflect on the tournament, along with the GB players and coaches.
GB's men at London 2012
Sean Kerly: "I think the first three games were very promising but we stuttered our way into the semi-final after that. Great Britain did well to get into the semis but I was expecting that really. The feeling I'm left with now, after that massive semi-final humiliation - which is all it can be called - is one of disappointment with the way it happened. Not necessarily with finishing fourth, because the Dutch, the Germans and the Australians are clearly above Britain. There is a gap.
"I'm disappointed for the players as much as anyone, because I'd love to have been celebrating a medal with the guys. It's not to be, and I think they'll be disappointed with that."
Jason Lee (men's coach): "If you had said seven years ago when we were awarded the Olympics and were ranked 11th in the world that we might come fourth, that would have felt brilliant. We had aspirations, probably dreams of a medal, but I still class Australia as the best team in the world. Maybe on another day it could have been different but I think it is a fair reflection of where we stand."
Where next for GB's men?
Kerly: "It's a turning point because, under Jason Lee, Britain planned to play a certain way to take on the rest of the world. The whole ethos of attacking hockey is led by him and it hasn't worked for them, so they will obviously have an inquest and there are decisions to make. Firstly, it depends whether Jason continues or not. If he does, are they going to play the same way? If he doesn't, a new coach will have new methods."
Lee: "I have given my heart and soul to this team, I've been doing it for nine years and nobody in this country has got close to that. The reason is, it's tears of joy in an ocean of heartache. It's been a special time and great memories but maybe it's time for a rest."
Barry Middleton (captain): "Hopefully we can pick up things again after Christmas and start looking towards Rio. We've come from 11th in the world in quick time but we want to go further, this is not the end of GB Hockey. The top three in the world are hard to chase but we want to chase them down."
GB's women at London 2012
Mel Clewlow: "They made it publicly known that they came out here with the sole intention of winning gold. Seeing the scenes of devastation after they lost their semi-final, I had concerns for the bronze medal match, but once they came out and showed how they were playing, I could really only see one winner. Winning bronze is massive - everyone looks at the history books and the last time they won bronze was 20 years ago. The 'what ifs' will always be there but a bronze medal at Olympic level is something pretty special."
Kate Walsh (captain): "It will take a few weeks before it sinks in. It has been a whirlwind two weeks. After the devastation of the semi-final - we came here to win a gold medal - that hurt a lot. But we have been here before and we just knew that come game-day we would be absolutely on it."
Where next for GB's women?
Clewlow: "I think we have to wait and see. When you come here with such a goal of being the best, had they achieved that then a few would be saying, 'that's me done', but for some it will feel like unfinished business. It was the team with the oldest average age in the tournament but I think the crucial thing is that clearly the centralised programme works. They committed to it for three years and it's paid dividends. From what I hear, the next centralised programme will start from 1 April next year in the build-up to Rio."
Walsh: "I've had a good long career. I said I wouldn't make any decisions immediately and I will have to sit on it and see how I feel. I still enjoy playing and I still feel fit - my body has held up brilliantly - and I think I am still improving so it is hard to turn your back on it. I am just still loving being part of the team."
Danny Kerry (women's coach): "I have to look at everything because there are so many variables: family, does the programme need freshening up, all sorts of things. Having said that, I'm only 41 and been to two Olympic Games and we've won our first medal, so I've kind of got the taste for it."
Hockey at London 2012
Kerly: "I think this tournament has been a great fillip for hockey. The women got a bronze, which they needed to save their tournament, and British Hockey hit the target of one medal by the skin of their teeth. I guess this is just about what we were expecting."
Sally Munday (England Hockey chief executive): "Hockey in this country has been on an incredible journey over the past seven or eight years, and we have made some fundamental changes to the way things are done. This is payback, not just for those immediately involved, but for the hockey clubs and everyone involved in the sport."
Crista Cullen (defender): "We want this to be a legacy. We want it to encourage more people to play hockey. We don't get much TV coverage or opportunities for people to see us so we hope this will change things."
Iain Lewers (defender): "It's been a bloody roller-coaster. It started off well and we've had a lot of dips in the roller-coaster and some highs as well. It's not two weeks' work, it's three-and-a-half years' work. You have to assess and put it into perspective, so I'll feel different in six weeks' time."