London 2012: USA push China aside to restore medal dominance
Last updated on .From the section Olympics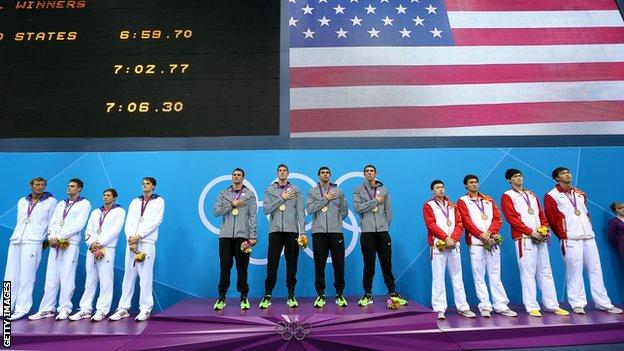 China inflicted an early psychological blow at the top of the medals table with teenage swimmer Ye Shiwen's stunning double gold, but the Aquatics Centre has ultimately proved a key venue as the United States have bitten back to dominate the Olympics
Four years ago in Beijing, the Americans, who had previously come first in all but one Olympics since they boycotted the 1980 Games, were stung when they were knocked off the top of the overall podium by the Chinese.
But despite China winning more gold medals than they have ever managed before on foreign soil, London has seen the United States emphatically restore the established order.
The aftermath of Shiwen's performances laid bare the old rivalry between the two superpowers.
The 16-year-old collected gold with victory in the 200m individual medley after setting a world record on the way to the 400m medley title, with US coach John Leonard to describing the display as "disturbing".
China's legendary basketball player Yao Ming responded by saying: "Ye jumped out to take away the glories that the Americans thought belonged to them for a long time.
"It's not a good feeling, like for us if someone takes away the gold medal from the Chinese on table tennis."
But that was not a sensation the Americans, who went on to collect 16 of the 34 gold medals available in the pool, had to get used to in London.
They may have trailed behind Jamaica's Usain Bolton and Yohan Blake in the showcase sprints but the Americans have - relatively - quietly amassed 29 medals on the track with a haul that includes nine golds.
Symbolically, China's track and field hero Liu Xiang fell before the first barrier in the heats of the men's 110 metre hurdles - an event that saw the US take gold and silver through Aries Merritt and Jason Richardson.
While Xiang now requires surgery on a ruptured Achilles, China's only gold medal in the athletics came with Ding Chen winning the men's 20km walk.
China traditionally excel in badminton, diving, gymnastics and table tennis and they have picked up 20 of their 38 golds in those disciplines, adding another 10 in the weightlifting and swimming.
But they have fallen well short in their attempt to emulate their achievements of four years ago.
From the conspiratorial to the utterly dour, theories about the medals race vary.
Chinese deputy sports minister, Cai Zhenhua, has reportedly accused judges of discriminating against Chinese athletes.
And United States team spokesman Patrick Sandusky appeared to play down the importance of the medals table when he said: "The Olympic Games is a competition between athletes, not nations. With that said, we are very proud of our American athletes in London."
But Steve Roush, former chief of sports performance of the United States Olympic Committee, feels American dominance on the track has been decisive.
"If there is a surprise, it's just how well the US has done in track and field," he said. "China's big challenge is in swimming and track and field. There are so many medals at stake."