Chief Rob McCracken key to Team GB's Olympic boxing medal haul

By Ben Dirs
BBC Sport at ExCeL
Last updated on .From the section Olympics22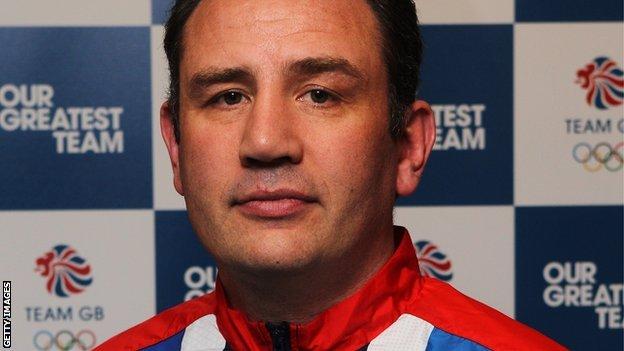 "Rob McCracken has made all our dreams come true. Without him we wouldn't be doing what we're doing today." Tom Stalker, GB boxing captain, on GB boxing's performance director.
As the London Olympics tail off into a mighty echo, it is tempting to look back through damp eyes and attribute the feats of myriad athletes to something mystical. Watch Usain Bolt or LeBron James in action and they appear almost divine. But these are sportsmen who are man-made. Partially, at least.
Cut through the romanticism of an Olympics and you will get to the guts of the matter, such prosaic things as 'systems', 'facilities' and 'structure'.
So it is with the Great Britain boxing team: five medals, including three golds, harvested after years of toil and years of hardship. Behind the lines, in the gym and out there on the road. You can thank Muhammad Ali for that last sentence.
For ambition not to turn into frustration that, in turn, curdles into desperation, sporting alchemists are required. And at the English Institute of Sport (EIS) up in Sheffield, there are a whole team of them turning base metal into gold.
"The lads and lasses have delivered but it's really down to Rob McCracken's leadership and the coaches that are on board," said BBC pundit and former Olympic bronze medallist Richie Woodhall, who is one of those coaches.
"Rob hasn't even had a full four-year cycle [he was appointed performance director in 2009] but he brought a very calming attitude that has rubbed off on the lads.
"He also brought professionals in, people like Carl Froch [the three-time professional super-middleweight world champion who is also trained by McCracken] to help out with sparring, and that's had such a positive effect. There were sceptics out there who thought we shouldn't have amateurs mixing with pros but those days are long gone, that's the future," added Woodhall.
After winning bantamweight gold, Luke Campbell revealed he had been close to quitting the EIS in 2009, fearing he was becoming stale. But that was before the arrival of the man team captain Tom Stalker, who lost his light-welterweight quarter-final in agonising fashion, calls the "dream-maker".
"Rob has set up the best facilities for us, got the best coaches together," said Stalker after watching Anthony Joshua, his room-mate, triumph in the super-heavyweight final. "Rob McCracken is what boxing is all about, he's the best coach I've ever worked with."
But McCracken and his team of coaches - with McCracken banished to the stands because of his pro affiliations, Dave Alloway and Paul Walmsley were in the boxers' corners throughout the Olympics - cannot turn base metal into gold without a laboratory, which is where the money comes in.
The facility in Sheffield is as cutting edge as they come, with every kind of support staff you could think of, and that is because of the funding GB Boxing has received from UK Sport. The medal haul in London, the best by a British boxing team since the Antwerp Olympics in 1920, will make sure that funding continues.
As Froch himself has attested, the athletes who train at the EIS are now more professional than most professionals. Comfortable, stable, you might go as far as to say cosseted, why would any of them be in a hurry to turn pro?
"I'll stay in the amateurs as long as possible, I wouldn't mind going to Rio," said Joshua, who had never laced on gloves when the Beijing Olympics were happening. "I'm still learning and I want to dominate against everyone in the amateurs, become European and world champion.
"Thanks to UK Sport funding, I've got more money than I need. To leave something as great as the GB set-up just because of the money would be a big mistake. I work with such great people and I don't want to lose that just because of a little bit of money thrown in my face. These memories are priceless."
At the Athens Games in 2004 Amir Khan was Britain's sole boxing representative, after which he quickly shed the vest and joined the paid ranks. But listen to Khan now and, despite the two world titles, you sense regret.
What McCracken's predecessor, Terry Edwards, put in place has been built upon so that it is now a medal-making factory peopled by a cohesive team - not just any team, but GB amateur boxing's greatest ever.
Shortly before the 2008 Olympics, Edwards stated that Britain would, one day, be as powerful as Cuba in the amateur boxing ring. I also remember the scepticism his statement was met with. Turns out he was right all along.
Enjoy the highlight reels and savour the memories. Just remember, while you are wiping away the tears, to spare a thought for the dream-makers, without whom none of the great things you are watching would have happened.