UK Athletics chief Van Commenee delays decision on future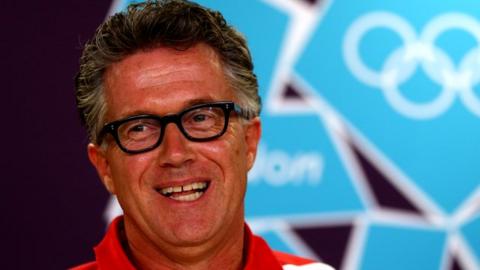 Charles van Commenee says he will delay any decision over his future as UK Athletics head coach for "a few weeks".
The Dutchman oversaw GB's six Olympic athletics medals, four of them gold.
"I've taken the advice of a few good friends who advised me to go on a break first for a few weeks," Van Commenee told BBC Sport.
"Then take some distance and re-evaluate and look back at it rationally. It's something to get back to in a few weeks."
UK Sport set a target of five to eight athletics medals at London 2012, but Van Commenee himself had targeted eight medals and at least one gold.
Heptathlete Jessica Ennis, Mo Farah in the 10,000m and long jumper Greg Rutherford all won gold on a memorable night at the Olympic Stadium on Saturday, 4 August, with Farah collecting another a week later in the 5,000m.
Defending champion Christine Ohuruogu took silver in the 400m, and Robbie Grabarz won bronze in the high jump.
"I've got a bit mixed feelings about it," said Van Commenee. "It's clear that we had a target of eight medals but there is plenty to celebrate and to remember.
"There were real iconic moments. We finished fourth in the [athletics] medal tally, which is exceptional for us, and I think we made the nation proud and we can look back at it for a long time with smiles on our faces."
He added: "One of the biggest things that gives me satisfaction is that we put athletics back on the map in this country. We lost our credibility collectively over the last 15 years or so and now I think people are proud, so I'm happy with that.
"Nevertheless, I've made the point many times when I was asked 'what do you do when the target is not hit?' - for me at the moment it doesn't change.
"But I promise to leave that for a while and we'll get back to that when the time is there. Today we have to savour the athletes' moments because that's what they deserve."