Lord Moynihan to leave his post as chairman of the BOA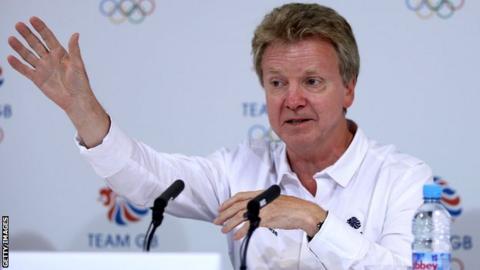 Lord Moynihan is to step down as chairman of the British Olympic Association (BOA) later this year.
Moynihan, who also sat on the board of the the London Organising Committee of the Olympic Games (Locog), will stay in the post until elections for his successor are held.
A former Conservative MP, Moynihan has chaired the BOA since October 2005.
Prior to politics he won Olympic silver as cox of the Great Britain's men's rowing eight at the 1980 Moscow Games.
In a letter to the BOA executive board, the National Olympic Committee and the BOA advisory board, Moynihan said: "The last two weeks have united and inspired the whole country and have surpassed all expectations.
"This was a job outstandingly well done by everyone who works at the BOA, the governing bodies and the volunteers who joined the BOA team in the run-up to the Games and I am exceptionally grateful to you all."
Moynihan has held his post at the BOA for seven years, re-elected unopposed in 2008.
However, in March 2011 he was suspended from the board of Locog along with chief executive Andy Hunt in a dispute over the allocation of funds after the Games in London. A deal to end the row was concluded later that spring.
During London 2012, Moynihan helped Team GB win 29 golds and finish in third place on the medal table.
He also vocally supported teenage Chinese swimmer Ye Shiwen following accusations from a United States swimming coach that cast doubt on the gold medallist's record-breaking time.
"She's been through Wada's programme and she's clean. That's the end of the story. Ye Shiwen deserves recognition for her talent," he said.